I'm hopeful for Florida after glancing at the photos of the Caribbean islands the day AFTER being directly hit by Irma as a CAT 5.  The photos are encouraging because even though the news says it is "complete devastation," it is NOT as there are a LOT of buildings still standing or partially standing. They were hit head-on as a CAT5 and they have far less stringent building codes than we do. So even if the worst-case scenario happens, which it looks like it will certainly NOT be, get yourself inside a boarded-up home and hang tight. Stay hopeful. Know that miracles happen every day somewhere, might as well be here.  
Hurricane Matthew last year reminds us that a huge Cat 5 can come ashore with only 109 winds affecting us. That can happen here, too. Hurricane Matthew was a Category 5 and began dissipating just before it got to us.  IMPORTANT TO KNOW from Russ Kellum who does his own research: When they say a hurricane is 500 miles wide and 185 mph, that doesn't mean the entire storm is moving 185 mph. Example: Irma, the eye 60 miles in diameter. A FEW MILES OUTSIDE of that is where the 185 mph winds are. NOT all 500 miles.   Remember on 9-28-16 Hurricane Matthew formed as a Cat 5 with 165mph winds. Winds died to 145 as it crossed Cuba and the Bahamas. Winds fell even lower as it moved up the east coast, bringing 109 winds to Brevard County on 10-6-16. The same can happen here. READ THIS AND REMEMBER it can change course at last minute and lose force. Hold the vision with me?
From Jason Diehl who does his own research: Channel 6 weather podcasted that the storm will pass to our far East due to the "cold" front that's over us right now. His exact words were no other stations are broadcasting this or showing it on their models but it will change Irma's path far far East of what everyone's saying. I didn't understand how none of the major local channels had the HUGE shearing frontal boundary that was basically on top of us and pushing south towards Irma. That's what steers a high pressure system other systems it "bounces" off of.   
We're staying and it feels safe to stay. If you feel led to go, then go. My experience is resistance always has meaning. It means somewhere else is more suited to your belief system. You can either leave or revisit your belief and see if it still serves you. If friends had me freaked and I believed I was unsafe, it wouldn't matter if I was or not, I'd get elsewhere.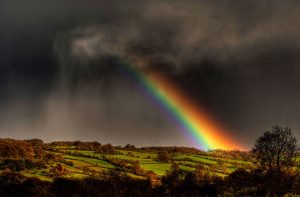 Positive thinking doesn't mean look at the raging storm and deny it's happening. Positive thinking means look for the rainbow, know the storm will pass and until then spend your time in happy pursuits, planning a hopeful future.  Yes, even while the storm rages on around you.
Seth thru Jane Roberts on How do we face a hurricane? A handy quote is "You Make Your Own Reality", from Session 614, 'The Nature of Personal Reality'. External experiences are going to be the result of inner beliefs and emotions. By staying calm, trusting that you'll be safe and well, the outer conditions of your personal experience will shape themselves in accordance with those inner conditions. It isn't a matter of pretending, but KNOWING the outer state reflects the inner one and trusting the outcome.
Remember, no matter what is going on, you can have a completely different experience than friends just inches away.  I think this is a very comforting photo and it happens all the time after all sorts of disasters. There are some left standing. I intend to be among those left standing.
I don't mind being in the cone of uncertainty as long as I remember that I'm also in the hands of God.
RELATED: Remember: Hurricane Matthew was a Cat 5 yet we only got 109 winds
Andrea's experiences with hurricanes and tropical storms
Mandatory evacuation, surviving Hurricane Frances, being the Vision Keeper
Be a vision keeper during the hurricanes
The phases of the moon drive hurricane behavior
Don't add to the fear about hurricanes
Mild winter = mild hurricane season
Remember an active hurricane season doesn't mean any will make landfall
I emailed news stations about a no cost plan for viewers to help with the hurricanes; global coherence
My Facebook posts for the Hurricane Matthew timeline