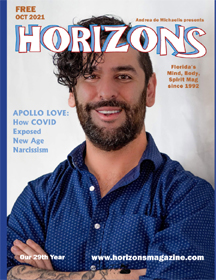 The Oct Horizons is now online at October 2021. ON THE COVER: Apollo Love was a homeless teenager and high school dropout who went on to become an Amazon #1 Best Selling Author and a 2-time reality show star featured on MTV's True Life and ABC's Glass House. I saw Glass House and recall him being outstanding as a voice of reason and keeping it real. On page 22 he details how Covid exposed New Age Narcissism (reprinted with permission from Elephant Journal.)  Find him on Facebook and visit https://www.apollopoetry.com/
Here are your October horoscopes:
Aries – (March 19 – April 18)
Dear Aries, regarding the private sector you are not immune to an impressive turn of events. Your loves are upside down, looking for answers, you might come across a betrayal in love. Let the stars do their thing, no need to get worked up, look ahead, it is not the moment to start new projects, the moment is badly chosen. From October 19th, you have good planetary aspects, before this period so stay cautious. Around October 23rd thanks to a small unexpected cash flow your finances are better. When it comes to your love life, a situation must be clear, there are still some points to settle. Do not wait too long to act, the time that passes you deserts you.
ARIES: LOVE IN GENERAL
Aries: Dear natives, you are at a turning point in your life, you should actually enjoy the good times instead of asking yourself questions. For part of the month your loves are upset but you have other things to do since you have accounts to settle. The stars influence your choices, decision making is the order of the day.
ARIES: IN A RELATIONSHIP
Aries: As a couple as soon as you approach the subject of finances, small tensions appear. Everyone camps on their positions, between you the discussions are lively. No return to calm by the end of the month, however, you manage to find solutions in extremis.
ARIES: SINGLE
Aries: The stars do not facilitate the task since you are unable to make your choice, you still hesitate between two people. You find support from your family. We advise you to take your time. We make intelligent recommendations for you without judging your actions.
ARIES: ADVICE FROM FREE HOROSCOPE
Aries: Do not rush into your choices it's the best thing you can do, make all your decisions with a calm head, accept the disappointments. Applying the advice you are given is a first victory.
Taurus – (April 19 – May 19)
October starts smoothly, you are not part of the top ten of the zodiac however, on a general level a nice evolution is felt during this month. If you need things to move forward and evolve, it will happen, but in due course you do not have control. Whether it is the domain of your love or the domain of the family, the stars advise you to play the card of prudence. It is only from October 22nd that a new wind sweeps the bad memories away. We will talk about rebirth. Before that, you lack patience, questioning all the things you could say or do. A little hindsight brings you a well-being. No need to go into conflict or ask for ultimatums.
TAURUS: LOVE IN GENERAL
Taurus: Disagreements are at the center of discussions for couples, you oscillate between disappointment and bad faith. Where are your good intentions? You will have to calm things down, especially since the planetary movements do not help you move in the right direction. It is by showing yourself as reasonable that you find a compromise.
TAURUS: IN A RELATIONSHIP
Taurus: Everything changes, your way of seeing things is different, it displeases your partner, they make it known. Conflicts continue to worsen, it will be necessary to wait until October 25th for a return to calm and to soothe the ardor between each of you.
TAURUS: SINGLE:
Dear Singles, you do not count the days of celibacy anymore. Be careful habits are set up very quickly, force yourself to go out and see people, gain new knowledge, do not hide behind the fear of the unknown, it will lead you to nothing, except to be stuck with your doubts.
TAURUS: ADVICE FROM FREE HOROSCOPE Taurus:You may think that in this month of October nothing very pleasant happens, think again, look around you, you might be surprised by the amazing attitude of some people. Open your eyes wide.
Gemini – (May 20 – June 19)
Dear Gemini, all in all, the month begins in half-tones, so considerate usually, you suddenly decide to be less attentive with your loved ones. It shocks some people around you while others have understood the meaning of your little game. You try everything to get a reaction from them. If you intentionally let a situation fester, your steps will come out unsuccessful, before acting clumsily think twice. At the beginning of the month, your relationships in love are not stable, but around October 15th, things improve significantly. Why not take advantage of a family atmosphere favorable to exchanges around October 22nd, to communicate on projects of all kinds. Do not be stubborn, you risk falling on those more stubborn than you.
GEMINI: LOVE IN GENERAL .
Gemini: Do not wait for things to go sour, pierce the abscess while there is still time. If there are things unspoken in your relationship, before riding on your high horses try to understand where the problem lies. Pretty quickly you find common ground. Some are ready to listen to you.
GEMINI: IN A RELATIONSHIP .
Gemini: Your relationship experiences ups and downs, at home it's a bit of a rollercoaster ride. You hide behind excuses, your partner knows it and they do not approve, between you the tension rises and you explode. A close person serves as an intermediary, their advice is precious, the atmosphere becomes less heavy.
GEMINI: SINGLE .
Gemini: You seem to doubt yourself, you hesitate on everything and every action,but have a little trust in yourself, there is no reason to be discouraged. A new person sweet talks you, if you like them, instead of distrusting yourself, it is strongly advised to go for it.advice.
GEMINI: ADVICE FROM FREE HOROSCOPE
Gemini: To procrastinate without stopping only wastes time, and time is money. Do not miss out on opportunities because your doubts outweigh everything else. Caution is required but do not make a fuss.
Cancer – (June 20 – July 21)
At the beginning of the month, you make beautiful encounters. A little suspicious at first, very quickly you manage to let go, you communicate about your expectations and your feelings. You make new contacts by highlighting the warm side of human relationships, so you quickly find confidence.
Regarding family projects, uncertainties are present, if you have chosen to close your eyes rather than face the reality, things are likely to get tougher. Push the discussion, look for common ground, and risk everything. It's around October 15th that luck comes back. The opportunities are getting ready, financially you find your cruising speed. The planets are moving around you, autumn is heralding new opportunities.
CANCER: LOVE IN GENERAL
Cancer:If you are looking for love, obviously autumn is the perfect time to make it happen. This period announces a balance in love. Get help from those around you if you lack motivation to complete a project. From October 18th the emotional domain finds a nice dynamic, enjoy it, without forgetting your personal objectives.
CANCER: IN A RELATIONSHIP
Cancer: The astral influences push you to optimize your relationship projects, such as travel, a new apartment, the need to welcome a child in your home, the choice is varied, if some doubts still persist, trust yourself. Your partner fully adheres to your preferences. Around the third week, things move faster.
CANCER: SINGLE
Cancer: You face a small family quarrel that demotivates you, so you are not willing to meet new people and you prefer to hide at home. You are wrong, the beginning of the month is a sign of luck. Things are happening when it comes to your loves.
CANCER: ADVICE FROM FREE HOROSCOPE
Cancer: Despite some imbalances the stars give you the opportunity to carry out your projects. If you encounter some disappointments it is for a good cause, take the time to think about it taking into account the advice of your loved ones.
Leo – (July 22 – August 21)
If you are looking for solutions to your problems, it is from October 13th that you'll find them, but not before. Planetary influences suggest a short-lived break in the clouds. Taking part of the situation by jumping on every little opportunity that presents itself seems to be the ideal solution for you.
Around October 19th, the professional atmosphere may become heavy, your office colleagues give you a hard time, but in the true vain Leo that you are you do not let them walk all over you, you do not hide your ambitions. As a family, it is you who settle conflicts, this month you put on your great wiseman's hat. At the end of the month some of our dear planets send you good vibrations, enough to allow you to breathe a little, especially for those who have given you stress.
LEO: LOVE IN GENERAL .
Leo: The astral sky clears for your loves, pay attention because it can quickly darken. This suggests that you have some efforts to make. By being imaginative and finding solid arguments, you can change your situation. Small warning, your will and your determination cause a little stress and insomnia.
LEO: IN A RELATIONSHIP .
Leo: If you are not on the same wavelength as your partner it is not very serious, as of the second week of October, you will find a mutual agreement. The fall starts slowly for couples, except that the planets keep a watchful eye on you. You are under astral protection.
LEO: SINGLE .
Leo: If you've recently started dating, it's slow but do not get discouraged, things are moving at their own pace. You can not go faster than the music, do not get ahead of yourself. For others, opportunities arise and you make new encounters.
LEO: ADVICE FROM FREE HOROSCOPE .
Leo: You have chosen to engage with the person who shares your life, the time has come to make concessions, you just have to give up two or three little things to move more serenely.
Virgo – (Aug 22 – Sept 21)
This month you are a wise Virgo. The arrival of autumn calms the ardor of the Virgo yet Venus hovers over your head leaving the door open to opportunities and luck. You are afraid of nothing, rather than playing the cold Virgo, you take the lead. Bouncing against possible difficulties is a breeze because you are so reasoned.
From the beginning of the month, you can begin to relax, you have less stress even if your conscience pushes you to make efforts in your emotional life. The family circle is at the center of your priorities, children are the basis of your happiness. The atmosphere, in general, is breathable and healthy. If you are considering large projects, the influence of the planets are favorable.
VIRGO: LOVE IN GENERAL .
Virgo: No time to think about bad days, no time to rehearse, a sweet atmosphere reigns in your daily life. By avoiding possible problems, the good actions of the stars offer you the possibility to build new projects. The second week of the month is favorable for love at first sight. A breeze of lightness blows over your love life.
VIRGO: IN A RELATIONSHIP .
Virgo: Your partner is reluctant about a change of project but you manage to convince them. Passion is at the rendezvous, your relationship is gaining momentum, you are on a small cloud. From the beginning of the month, the bonds are tightening, you are more close than ever.
VIRGO: SINGLE .
Virgo: An uncomfortable situation makes our dear Virgo friends who are single a little anxious and irritable. You do not take the time to listen to the good advice of your loved ones, you prefer to make impulsive decisions, you may regret it later. Think of the good resolutions you have taken recently.
VIRGO: ADVICE FROM FREE HOROSCOPE .
Virgo: If you are a bit confused at times, get some comfort from those around you. From the moment you feel confident, nothing can make you doubt. It's a carefree month.
Libra – (Sept 22 – Oct 21)
You are being egocentric instead of looking around, you spend your time imagining a life without problems, except that it only exists in your dreams. The month begins under good auspices dear native of Libra since passion is at the rendezvous. You are solicited, whether at work, at home or in love.
Receiving the attention of others propels you to the top of the zodiac parade. Are you a bit pretentious? It is around October 22nd that the planets give you a hard time in matters of the heart, it is an excellent test in anticipation. In the office some small difficulties can intervene with your colleagues, show a little diplomacy to calm things down.
LIBRA: LOVE IN GENERAL .
Libra: The planets warn you about your offbeat behavior that you sometimes have with certain people, so differences of opinion are present, loves suffer. Adopt another strategy and everything will be much better. If the beginning of the month is conducive to being closer, the end of the month brings fragility to your love.
LIBRA: IN A RELATIONSHIP .
Libra: Your partner expects you to show proof of love, because this month your relationship is marked by an imbalance. For you to find complicity it takes a little time. It will be up to you to make some efforts. But on the positive side, you react at the right time, your relationship remains welded.
LIBRA: SINGLE .
Libra: Nothing is lacking on the dating scene, except that you are being difficult. A problem of motivation or simple revenge? It is during the second week that you are ready to make new acquaintances, the atmosphere is sweet and you are confident. You are not safe from having a crush at the end of the month.
LIBRA: ADVICE FROM FREE HOROSCOPE .
Libra: Do not be grumpy for everything and for nothing, do not get stuck on unimportant details. Be gentle, show your diplomacy, make arrangements, put away your bad mood. Your kindness is a major asset in your relationships with others.
Scorpio – (Oct 22 – Nov 20)
For the natives of Scorpio the month of October announces a new open-mindedness. The relationship field is put forward, you are more confident, your entourage feels it. The stars recommend you to make a real return to the sources. Contact with nature is beneficial for the biggest of dreamers among you, take advantage of it for long walks in the forest or to take a step back and calm down.
Around October 14th your emotional life is rich. Unexpected upheavals will change the course of things, if you had planned a trip, it could be delayed. The global situation is favorable if you are at the head of a professional or personal project. On the financial side, all administrative procedures (bank loan application or other) receive a positive response.
SCORPIO: LOVE IN GENERAL .
Scorpio: In love, to avoid problems in your relationship separate the private sphere from the professional sphere, put things in perspective. Watch out, professional concerns could take over emotional relationships. You are criticized for your lack of involvement, react now. Starting October 26th, unlikely encounters will surprise you.
SCORPIO: IN A RELATIONSHIP .
Scorpio: This month you do not get bored as a couple. Between outings, hobbies and work, as soon as you have a free moment you will enjoy it to spend time in love. You approach future projects. A great strength in your relationship gives you confidence in the future.
SCORPIO: SINGLE .
Scorpio: If you covet someone you could fall under their spell faster than expected. This month you no longer control your emotions, you are on a small cloud. Your astral sky announces beautiful clearings with a forecast for great weather on your loves around October 17th.
SCORPIO: ADVICE FROM FREE HOROSCOPE .
Scorpio: Autumn seems to be the best time to make a love story come true. If you have some doubts, learn to trust yourself, stop looking for the slightest detail. Dare to go towards others, show yourself natural, expose your state of mind.
Sagittarius – (Nov 21– Dec 20)
Dear Sagittarians you are pampered by the stars, the beginning of the month is quite calm, it is from the second week that everything accelerates under the action of the planets, your loves take on momentum, the field of work is boosted thanks to new projects. The small difficulties will not completely disappear except that you are under high protection, it is a nice advantage.
The meetings you make are beneficial, your expectations are rewarded, and if it was blocked communication resumes. At work, the atmosphere is breathable, your colleagues are supportive. Some changes are to be expected in your personal life (a move, change of region or country), so we speak of positive upheavals. If you need financial support for the validation of a project, this period is favorable.
SAGITTARIUS: LOVE IN GENERAL .
Sagittarius: Everything is going well in your love life, you are surrounded by good people. You are receptive to the requests of your beloved, under the action of the planets romantic relationships are strengthened. As you brake with both feet Venus pushes you to reveal your feelings. For the greatest happiness of your loved ones, you reveal yourself out in the open.
SAGITTARIUS: IN A RELATIONSHIP .
Sagittarius: At the beginning of the month, small tensions are present. So that your relationship can find fluidity, get your act together. A misunderstanding could be the origin of a disagreement, instead of camping on your positions, confess your fault, it will be so much simpler.
SAGITTARIUS: SINGLE .
Sagittarius: The third week is an important time for those who are single, a situation you had not foreseen could thwart your plans. A person might well destabilize you, could love be knocking on your door? During the last days of October you may have some good surprises.
SAGITTARIUS: ADVICE FROM FREE HOROSCOPE .
Sagittarius: The first frost begins, you need human warmth, it's your fiery temperament that will warm the atmosphere. Get closer to the people you love, show them your motives, there's no reason you'll be disappointed.
Capricorn – (Dec 21 – Jan 19)
This period is favorable, emotions are intense and powerful, your intuitions are good, you do not let anything pass. From October 12th opportunities are come one after another, if you want to highlight your creativity there will be many opportunities to do so. Still hesitant to set up a project? Go ahead, let go of your doubts! If, on a personal level, you are considering changing some things do it without questioning your past actions.
Your vision of love is different. To overcome your emotional fears the planets send you the necessary impetus, you go forward, you learn to trust. The family circle is welded, no disturbance is expected during the month of October. Professionally this period is calm, while waiting for the situation to evolve positively, changes are being prepared.
CAPRICORN: LOVE IN GENERAL .
Capricorn: You are on the defensive except that this period announces upheavals. You need to feel that you are loved, you are ready to reveal your emotions and your feelings, you expect a little affection in return. The stars respond favorably to your wishes, you receive as gifts beautiful marks of tenderness. In love you take the right direction.
CAPRICORN: IN A RELATIONSHIP .
Capricorn: Your partner seems reluctant when it comes to making long-term plans, you persuade them that it is for the good of your relationship and it works. You demonstrate a strong persuasive force, it strengthens your relationship. From the 17th of October your joint projects are realized, you are happy.
CAPRICORN: SINGLE .
Capricorn: Dear Singles this month, you're on a course. To reach love, the path was long, yet you reach the goal. Indeed, your ambitions lead you to the realization, you are ready to do everything for the person you love. The influence of the planets pushes you to reveal yourself in broad daylight.
CAPRICORN: ADVICE FROM FREE HOROSCOPE .
Capricorn: October offers some nice surprises. You imagine an easy life, without constraint, the period looks restful. Enjoy the moment. Stay receptive to opportunities. Enjoy the sweet atmosphere around you.
Aquarius – (Jan 20 – Feb 17)
Will autumn boost the determination of the Aquarian natives? It seems so. When it comes to your feelings, lightness and fantasy are the keywords of a daily routine rich in emotions. If you are told that you lack romance, they are wrong.
Without making any noise you continue on your way and you reach the goal. If questions remained unresolved, you finally get answers. Take advantage of this fall period to undertake new projects or to develop a winter trip. In your emotional relationships a nice balance is present. In the office, a heavy workload plagues you a bit, either you face it or you schedule a few days of vacation. As a family, you are busy, between children and their activities you do not get bored.
AQUARIUS: LOVE IN GENERAL .
Aquarius: When you decide to please the person you love you are serious. We recognize that you are a discreet person when it comes to your feelings yet you decide to expose your feelings in love in broad daylight. Some are surprised, others were waiting for that. Your love life is gaining momentum, and it suits you.
AQUARIUS: IN A RELATIONSHIP .
Aquarius: Between the 13th and 17th of October you are torn because of a family choice, your partner tries to help you and support you, together you find solutions. A return to calm is expected around October 25th, at which time you can breathe a little and start to relax.
AQUARIUS: SINGLE .
Aquarius: At the beginning of autumn those who are single need tenderness, this period foreshadows nice meetings. You do not touch the ground anymore. You have the possibility of concretizing a love story by letting yourself be carried by the good vibrations of the stars. October 20th marks the beginning of an evolution and the end of celibacy.
AQUARIUS: ADVICE FROM FREE HOROSCOPE .
Aquarius: You get what you want because you give yourself the means to get there. You do not let go, you are determined. Your efforts are paying off. For you it is finally deliverance. Do not hesitate, make yourself heard.
Pisces – (Feb 18 – March 18)
Your mind is wandering, you are carried away by your dreams. At the beginning of the month, the notion of lightness reflects your personality. Around October 10th, transformations are felt. Nebulous love situations clear up, you no longer swim in troubled waters, decisions are frank, you make choices, you decide.
Around October 21st, family concerns take over your daily life, you control your emotions, you do not go headlong, you quickly seek solutions. Rather than rehearsing in front of the television, you prefer to spend your evenings enjoying your friends, you organize festive meals. This month your friends and family are part of your comforting bubble.
PISCES: LOVE IN GENERAL .
Pisces: If lately romantic relationships have been complicated, you make up for it by taking some risks. You are under the protection of the planets, your actions are protected, you do not fear much. The opportunity to get down to business is present. Around October 15th you could make a radical decision. You receive proof of love that hadn't expected.
PISCES: IN A RELATIONSHIP .
Pisces: As a couple you manage to free yourself from certain constraints. Your partner appreciates your new way of thinking even if they do not quite agree with your choices. To overcome a disagreement you find common ground. From October 17th, calm returns, your relationship finds its colors. The atmosphere is sweet.
PISCES: SINGLE .
Pisces: For you, nothing is pressing, you make the choice to take your time if you are looking for a soul mate. It may well be that an unforeseen situation will disrupt your plans. Love has decided to visit you. This period is positive, you build links, the exchanges are fluid, it pleases you.
PISCES: ADVICE FROM FREE HOROSCOPE .
Pisces: The decisions you make take you to new situations. Do not lose sight of the goals you have set yourself, move at your own pace. Spoiling the people you love is good, do not forget about it.