The February 2020 Horizons is now online at http://horizonsmagazine.com/fb/2-20/mobile/index.html.  Our astrologer is off to new adventures so we're seeking another super cool horoscope writer. Email Andrea at  horizonsmagazine@gmail.com.  Until then I found a couple online whose interpretations I resonate with. February's is from free-horoscope.com
Aries – (March 19 – April 18) Career is the focus of the month. You feel a change in your source of income is emerging. It's a time this month to reflect on what is fundamental in your life with a beautiful inspiration! Significant career challenges are likely to dramatically monopolize your life this month. A fighter like you, these kind of stakes do not displease you. Be aware, however, to take the necessary breaks, respect your sleep and everything will be well.
Taurus – (April 19 – May 19) Particularly idealistic, this month, you will aspire to live your relationship in a passionate way, which will destabilize your partner! Your ordinary calm nature will turn you into a Taurus closer to someone in the bullring than in the meadow. Nevertheless, appeased by a gentle way of communicating, you will be able to make yourself understood without rushing your other half too much.
Gemini – (May 20 – June 19) Increased transformations this month, friends will count a little more than usual and love could be renewed this month. Communication is paramount. Compromise and dialogue could be the perfect recipe for your relationship this month. This month could promote meetings of potential partners. Be aware that your eagerness to defend your points of view could make the other run rather than seduce. Be inspired, diplomatic and be open to change.
Cancer – (June 20 – July 21) It seems inevitable that you will let go of what must be, in order to welcome renewal in your life. The sectors of family, home, and residence will not lack work! You will seek to understand the workings of your emotional life with thoughts which will take you in another direction. Your view on love changes and will change again. Stay confident. This may represent a great emotional turning point in your present life. Most often for the best.
Leo – (July 22 – August 21) The work and health sector is very dynamic. There is a restructuring of your daily life, it is a slow process. You will soon forget your daily hassle if you share time with partners as cheerful as you. Mercury helps you deepen your relationships. Your frank and loyal nature might show a more personal side this month. Shaken by internal movements your partner might be baffled. Nothing very serious.
Virgo – (Aug 22 – Sept 21) You will not lack work but you are armed for it! These influxes will be beneficial! Your home will be the place of many activities perhaps related to projects for two. Lots of communication, fluid until the 17th, then, will come a more introspective time. This month is part of the most important part of your life that the universe installs for you.
Libra – (Sept 22 – Oct 21) Uranus articipates in re-evaluating what counts for you and that comes from others or your family in terms of money. Your sweet and easy daily life this month could evolve into good professional surprises for a contract or partnership. You know to adapt yourself well to your happiness and that of your partner. Go out! Have confidence.
Scorpio – (Oct 22 – Nov 20) You advance, boosted by a strong and conquering mind! Nothing and no one can erode that great self-confidence. Inspiration in your remarks should encourage communication. You should also seek an increase in your financial resources. You love only with intensity but this is not on the menu this month. In a relationship it will be up to you to negotiate the turns and other secondary roads so as not to mistake the destination! Surprises and drama! An active month on every level. Do not neglect a necessary rest because everyone needs to recharge their batteries.
Sagittarius – (Nov 21– Dec 20) A beautiful energy is on the program! Conquering and dynamic as you are, it will take a lot to tire you! Active on the roads or in the development of your projects, major events could concern your assets, your domestic life or your home. The pecuniary questions will take up a lot of space, which suggests that your relationship should go through a quiet phase as Mercury and Venus, in the sector of your home, announce a lot of exchanges and well-being. Your taste for freedom could be alleviated during a spontaneous encounter.
Capricorn – (Dec 21 – Jan 19) A particularly beneficial month, the fruits of this work should be seen in financial and relationship sectors! Neptune continues to relax the second decan by making you inspired and spiritual. If you are preparing a project, wait until the 18th and start! There may be change in the air for you. Your relationship could go through a phase of great creativity. Communication should be facilitated but be careful not to scare your partner by acting too fast. You could meet someone at a family meal but the romance could be short lived. Do not get carried away!
Aquarius – (Jan 20 – Feb 17) Your finances will animate through contradictory energies, be wise! Your nature is complex and you like it, introspection will be important this month, you will advance a bit masked. There's a strong desire to cast off suddenly, you aspire to revolutionize what has proved its worth until now. Your family or household may experience an unexpected change. Usually so communicative, this month is not easy for the expression of feelings. Mercury in your finance sector encourages you, instead, to look at your accounts and forget sweet words. On the other hand, when Venus passes into Aries you will become warmer.
Pisces – (Feb 18 – March 18) Your career will not be outdone this month, with a fiery, combative Mars, before it dynamizes very seriously your projects. You could receive gifts or see the financial sector improve via a promotion. You are inspired this period and this should be conducive to your emotional life. You think more than usual and this introspection in the middle of month will prove beneficial in your emotional exchanges. Even if the love sector is not really highlighted this month, it is nonetheless true that you will want to love and be loved which foreshadows a very favorable disposition.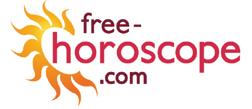 Expanded text for each sign is available at www.free-horoscope.com