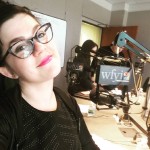 My friend Loreal Gavin a/k/a Food Network Star's Butcher Babe is driving to California to begin her new adventure. We can share in her dream by donating a little love and gas money for the long drive! Paypal to chefloreal@yahoo.com  She's writing a book and relocating to offer her services as a private chef.  Follow her adventures on Facebook and read the cool article below about her.
The Butcher Babe's Last Bow
Food Network Star and local celeb chef Loreal Gavin is hosting her last dinner and goodbye to Indy
When Loreal Gavin answered the phone, she was sitting in a bathing suit, in the sun, outside of one of her client's houses, eating a fresh slice of divorce cake (come on, all occasions deserve a cake).
Gavin — an Indy butcher, chef, and artist — is most well known for her time on Food Network Stars traveling around the country and showing off her knowledge of meat. The Kincaids butcher didn't come home with the win, but has since been working in various kitchens and high profile events like Indy Rev. Her chapter in Indianapolis is soon to end, but not without a proper sendoff. We caught up with her before her final dinner, hosted and prepared by her at Taste Cafe and Marketplace — the first place she worked after moving to Indy years ago.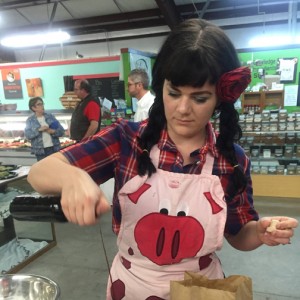 "I am just following my heart," says Gavin. "I am just excited for a new adventure, new groups of chefs. I kind of feel like a big fish in a little pond in Indianapolis. People are more into spending money on having private chefs and stuff [in California], that's the type of avenue I am going towards. I don't really want to own a restaurant at this point in my life."
She plans to give more time to her visual art as well; namely through a coffee table style cookbook that she is writing and illustrating.
"By the end of the book people will have a pretty good understanding of what it is like to be a meat cutter," says Gavin. "They will be enthused about buying in bulk and how to package at home … I have never actually slaughtered animals — and not to say I wouldn't at some point just for the experience — but we are so out of touch with that. Hopefully I can, in an elegant sort of way, help people touch base with that … This cookbook will be Alton Brown, Shel Silverstein, salt and peppered with Ren and Stimpy."
She also hopes to start a program for young women that is food based and has a strong focus on equality.
"[I want to show them] you're not a piece of meat, this is a piece of meat," says Gavin.
She also plans to focus on longform private dining experiences and on maintaining the healthy balance she has been able to achieve (with the help of Wellness Origin day spa) over the past few months in Indy.
NUVO: Do you ever feel boxed into butcher babe and having this meat-heavy focus?
Loreal Gavin: I definitely have at points in my career. I have a lot more going on upstairs, especially in the culinary department. I always consider myself an artist first and a chef second. I hope that the release of this book could capitalize off of my career as an artist.
NUVO: Do you still feel under the shadow of Food Network Stars?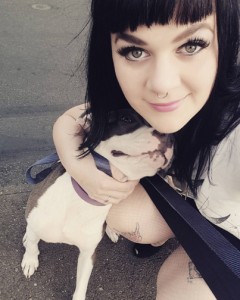 Gavin: I think I did for a brief moment when I got so close to winning but didn't. Now I really don't give a shit. The less I am attached to any sort of ego, the better off I am, the better off everyone is. I think I was put on this earth to motivate people through my own example. That they can have their cake and eat it too — or rather have their steak and eat it too."
NUVO: What was your earliest really influential memory of food?
Gavin: One of those memories is being in Louisiana. One of my memories in particular started off with all of the food thoughts that I had. I am pulling out a chair to the kitchen counter, because I was too little to stand up, and I started making steak sauce. (She was around age 4 at the time) … Ever since then that's all I have been doing is cooking.
NUVO: How do your music, art and cooking all influence each other?
Gavin: They are all different forms of energy really. They feed off muses. There are high and lows in life, but music is a silent best friend. I could be having a bad day and not know where to start or how to end, and you can just get lost, but find yourself in something therapeutic like that. It translates to every walk of life. Even if you and I didn't speak the same language, if we were standing across the table from each other and someone is playing guitar, and you have an apple and I had a steak we could start a conversation with our eyes. You can hand me half of your food and I can hand you half of mine. That is universal. I can't think of two other things in this world that translate so well without saying anything … those things keep me humble and to my roots. I am not looking at your handbag. I don't care. Why can't we just drink some wine and enjoy the sunset? I don't know your name and it doesn't matter. Anywhere you go those are things that connect cultures. That's what's wrong with the world, people don't sit around and actually sit down and eat dinner, turn your TV off, put your phone away, shut up … How are you? I love you. Here's some potatoes.
NUVO: You have said that Indy's culinary talent is segregated. Where do you see those lines?
Gavin: I don't so much see them as feel them. When I worked in Louisville, a lot of chefs would get together and hang out … I felt like when I was working in kitchens … people weren't so quick to celebrate one another … Maybe it's just me, but I don't think so.
NUVO: How do you keep a balance of body image and health when you are on camera a lot and working in an industry that is all about nutrition and what you put in your body?
Gavin: Part of my reasoning, beyond the fact of feeling really tired, I found that when Food Network Stars came out I wasn't really happy with how I was perceived on camera, physically, to be honest. I didn't really feel comfortable. Food Network had makeup artists and wardrobe specialists and everyone was really nice, but I didn't have as much say as I wanted over my image so to speak. So I feel like now, moving forward, I don't necessarily want to lose weight, but I want more control over what I look like. I think it had a lot to do with how comfortable I felt in general. Considering I am of the artistic disposition, I started to feel out of touch with myself. When I was on the road I didn't have art supplies, I didn't have a guitar, I didn't have any of the things that really make me happy. I couldn't ride a bike. You know what I mean? If you look at food Network.com at my bio I wrote something on there on a day where I was particularly sad, where I wrote "I love" and I wrote all the things that I love. I realized that in order to be successful in this industry, if I decided to make a career out of it, there were certain things I was going to need. Maybe that makes me more complicated than the average person, but I am a plant and this is the water I needed.
NUVO: Is the idea of a kitchen being the "dude's club" something you have encountered around the country or is it restricted to certain spaces?
Gavin: Now that I am getting older and I have worked in so many different avenues within the food world, I am realizing that that phenomenon exists in your mind. If you are younger and novice or maybe not as secure in your skill set, those sort of perameters exist. Or rather you could have the state of mind that Rosa Parks did when she was like, I have a ticket to ride and I am going to be on this bus. You are not going to get in my way and I am going to stick up for myself. So in the past I can definitely see that there are parameters, but now those really exist in your mind. And I will push, and shove, and chastise anybody that gets in my way.
Article by Emily Taylor Twitter @emrotayl reprinted from http://www.nuvo.net/indianapolis/the-butcher-babes-last-bow/Content?oid=3831719