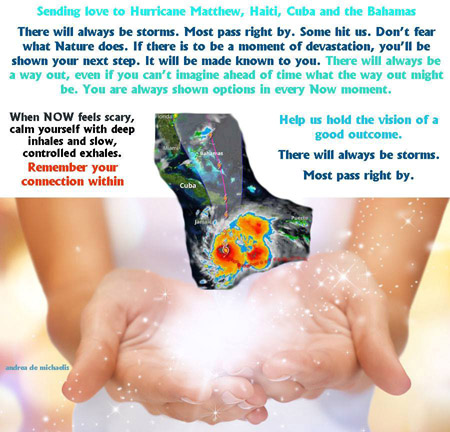 GOOD NEWS FOR NORTH OF SEBASTIAN INLET, FL: As of 8:00am Hurricane Matthew is downgraded to a Category 3, maximum sustained winds had dropped to 115 mph and it's headed north. <3 There's a Hurricane WATCH from the Sebastian Inlet to the Flagler/Volusia County line. A Hurricane WARNING is in effect for areas south of Sebastian Inlet into South Florida. <3 . Matthew is moving North at 8mph. Hurricane-force winds (74+ mph) extend outward up to 45 miles from the center. Tropical storm force winds (39+ mph) extend outward up to 175 miles. At present speed, it should hit us overnight Thursday and by 8pm Friday be near Jacksonville.   
Last night Jim Cantore checked into the Melbourne Hilton on the beach at Indialantic.  Always a sign we'll get some weather! Having been downgraded, if Matthew hits us at 115 miles per hour, I feel safe. The storm's strongest winds near the center are predicted to diminish to 110 mph by the time it is off the coast of Stuart Thursday night and to 100 mph off the coast of Jacksonville Friday night. That is still a Category 2 hurricane. The National Weather Service in Melbourne is predicting wind gusts up to 30 mph Thursday night and during the day Friday. Winds are expected to diminish to 20 mph Friday night.
I wrote this a few years ago —> http://horizonsmagazine.com/blog/andreas-experiences-with-hurricanes-and-tropical-storms/ so I could remember how each category storm affected me personally and for how long. My worst experience (and it wasn't bad): I was home through Jeanne on 9-24-04, a Category 3 hurricane moving 12 mph, which hit 60 miles south of me and had winds of 115. I lost power about midnight and was without power for ten days. My mobile home 3 miles away sustained minimal surface damage from flying debris. Just three weeks before, Hurricane Frances (Cat 2, winds 105mph) hit us and I lost power for 10 days. A storm roars loudly, like you're under an airplane and a train is riding past at the same time. I felt safe inside the house. Burglar bars on all the windows help protect from flying debris, but I shutter them as well. 
I would not feel nervous about staying in my home again through a Category 3 hurricane with sustained winds of 115mph. (Category 4 with winds of 131-155 is when there is damage to doors and windows, mobile homes. Cat 5 winds of 155+ are when doors, windows and roofs can fail. Mobile homes can be destroyed.) The worst I fear is losing power since it means no a/c, no water since I'm on a well and pump, no phone, no internet and limited cell phone use.
I'd tough it out at home if it came through as a Cat 4. I got a new roof in 2005, my home is 2×6 construction (not 2×4, thanks Uncle Jimmy!) and there's a 1/2″ plywood floor overhead throughout half the attic. I'm bummed my tenant at the mobile home park has a mandatory evacuation but hopefully it's just a few days and she has an intact home to go back to. It weathered the 2004 hurricanes just fine, and it's got an entire new subfloor since then. I'm hopeful and anything is possible. Hold that vision with me?
RELATED:  8:00am update has Hurricane Matthew landing 40 miles south of me
RELATED: Mandatory evacuation, surviving Hurricane Frances, being the Vision Keeper
Be a vision keeper during the hurricanes
The phases of the moon drive hurricane behavior
Don't add to the fear about hurricanes
Mild winter = mild hurricane season
Remember an active hurricane season doesn't mean any will make landfall
I emailed news stations about a no cost plan for viewers to help with the hurricanes; global coherence