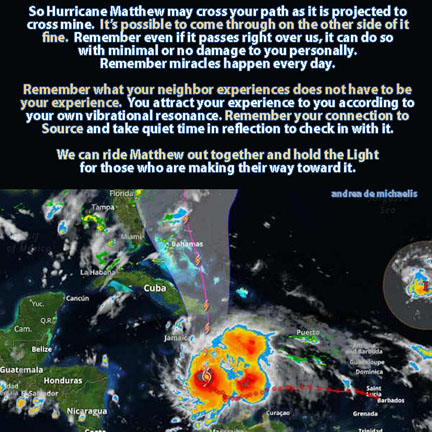 So Hurricane Matthew is projected to land about 40 miles south of me as a Category 3 with winds of 115mph. I don't feel the pull to leave, I feel safe. At 5pm winds were 120 mph and by 8pm had weakened to 115. Moving NW 12 mph, projected landfall Vero Thursday night, then riding up the coast through Friday. I'm 12 miles inland and west of I-95. Hurricane-force winds extend outward up to 45 miles from the center and tropical-storm-force winds extend outward up to 175 miles.   
It's a familiar scenario. On 9-24-04 Hurricane Jeanne landed at Stuart/Fort Pierce (60 miles south of me) with Cat 3 winds of 115mph, gusts to 120, moving 12mph. Range was 45 miles from center as Matthew is projected to be. I stayed home and all was fine. I wrote the details here –> Andrea's experiences with hurricanes and tropical storms
I know for Hurricane Frances I headed for Franklin, NC. Luckily my van broke down in Lake City where I rode out the storm, because the hurricane continued on to Franklin, NC and caused devastating flooding. I've learned to stay put and trust my own vibrational resonance to determine whether I have a good experience or not.
RELATED: Hurricane Matthew may be here tomorrow night
Stop watching scary hurricane "skulls" and video footage