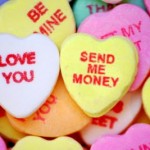 Ah, online dating.  The drama continues! I wrote earlier at Online dating scams; hot singles are waiting for you that several friends are dating online and report to me all their adventures.  A lot of the women get the same emails and instant messages from the same men, like a mass form letter I guess, hoping for a 1% return or something.  They also get a lot of the same "canned" information during instant messages, which simply shows that the guy is copying and pasting from another message.  My friend Sofie shared a typical instant message from her SeniorPeopleMeet site.  She is a cute gal and also a no-nonsense person, also a Buddhist.  She flat out doesn't talk to guys who have no profile and no picture.  She gets a dozen instant messages every time she signs on to the site, guys she has nothing in common with and who just see that she's cute and online.  Here is this morning's conversation:
MrCurved2000:  hi
sweetdynamo:  hello
MrCurved2000:  How are you Sofie?
sweetdynamo:  why do you have zero profile?
sweetdynamo:  just so you know, no profile, no pic makes you seem like a scammer
MrCurved2000:  My name is Owen and I am a 60 year man who seeks his ideal mate.
sweetdynamo:  and why no profile? sorry to bust your chops, I get 10 guys a day doing this to me and 80% are scammers
MrCurved2000:  Well honey if you truly feel this man is a scammer then ask Seniors why for the past 3 months they make sure they take their money out of my bank account. Same here with my profile
sweetdynamo:  and again I ask why no profile?
MrCurved2000:  I am not a scammer and don't appreciate being called one or put in the same category with them. I am a hopeless romantic chivalrous gentleman with some class.
sweetdynamo:  and why is that not on your profile? with all due respect?
MrCurved2000:  And again I said you go and ask seniors because I posted everything when I joined this site over 3 months ago. But it seems you have already prejudged this man without even giving me the benefit of the doubt and as a Christian that is not nice at all and I certainly don't appreciate it. I would never do that to you and don't expect anyone to do it to me.Sorry you feel you know all about me without asking me even the correct questions.
sweetdynamo:  oh so you are telling me that you created a profile at the site that does not appear? ok so let's start over ok?  HEY OWEN this is Sofie, you've seen my profile, let me know if we share any mutual interests
MrCurved2000:  I can't control your thoughts and I will pray for you.
sweetdynamo:  I have been praying for you since your first IM weeks ago with all due respect. thanks
sweetdynamo:  Ok, I meant that no personal writing of yours was there, my mistake
sweetdynamo:  why is it the bullies and scammers all pull the Christian card?
MrCurved2000:  Hi Sofie and yes we share mutual interests. Would you like me to tell you what women tell me I am and what I adore doing?
sweetdynamo:  no, I want you to only tell me if we have anything in common, but you haven't read my profile likely
MrCurved2000:  I will be more than happy to answer any questions you may have and I don't lie or deceive.
sweetdynamo:  so I will wait for you to tell me what mutual interests we share
MrCurved2000:  I don't have to read your profile because it doesn't interest me in the slightest. I go by what you have in your heart and my heart tells me you are the most honest, sincere, intelligent, Christian woman on this site. This is good enough for me and God also agrees with my decision.
sweetdynamo:  Good luck to you.  Please do not contact me again.  God will tell you why.
MrCurved2000:  As a man I'm: sincere, honest to a fault, loyal, caring, open-minded, creative, intelligent, affectionate, passionate, compassionate, a hopeless romantic, chivalrous gentleman, and enjoy hours of daily conversation.
sweetdynamo:  I suggest you add that to your profile
MrCurved2000:  I enjoy walking along the beach, walking hand in hand, watching the sun rise & set, sitting in front of a fireplace, cuddling, snuggling, hugging, and hours of conversation.
sweetdynamo:  and add that to your profile as well
MrCurved2000:  Now you can tell me if we share any interests.
sweetdynamo:  not yet.  good luck to you
(I closed the window – 2 minutes later he was back)
MrCurved2000:  Sofie please bear with me as I can't remember my password and don't know where I put it. I sent office an email and will take about a day before they sent it to me.
MrCurved2000:  So sorry about that, but I will get it corrected just for you because you were the nicest in asking me to do so.
sweetdynamo:  ?? I was not nice at all Owen
sweetdynamo:  see? even now you are acting like the scammers do in their set ups
sweetdynamo:  with all due respect
MrCurved2000:  Compared to the demanding others you were so very sweet
sweetdynamo:  what city were you born in?
MrCurved2000:  I was born in East Stroudsburg, PA December 3, 1948 at 4:00 in the morning.  At the Rosenkranbs hospital, which is now an apartment complex.
sweetdynamo:  may I ask what you were doing between 10am and 2pm today?
sweetdynamo:  pardon me, Owen, these are test questions to see if you respond or just copy and paste text that is not related as you've done to me up to now
MrCurved2000:  I was sitting here on my computer playing online solitare my favorite game and not doing so well.
sweetdynamo:  what do you see when you look out your window?
sweetdynamo:  what does your profile screen name mean?
MrCurved2000:  Trust me on this one you truly don't want to know because it has sexual overtones about my body.  Just let that one go honey.
sweetdynamo:  why do the so-called Christians all have the sexual overtones?
sweetdynamo:  Don't you know normal women see that as crude and vulgar?
sweetdynamo:  Owen, let's just call it a day and not talk again, ok?
sweetdynamo:  no hard feelings – don't go away mad, just go away ok?
sweetdynamo:  and with all due respect my good friend publishes a magazine and a blog and I am going to give her permission to reprint this conversation in it as a caveat to other women who comes across the likes of you.
MrCurved2000:  As with most women on this site you are truly superficial, bland, and for a so called Christian a totall out right bitch.
sweetdynamo:    never said I was a christian Owen
sweetdynamo:  and all you do is look at location and photo – how superficial is that??
MrCurved2000:  Go buzz off with your crap about being high and mighty as your kind go no where but down to hell.  bye and hope you soon see the light.
sweetdynamo:  oops, Hell doesn't exist Owen, good news for you
### end of IM
Lots of the IMs she receives get all pornie and for some reason, the men that stress they are christians and born again all seem to be the worst offenders.  But most of them are just stupid time wasters like this guy.  And kind of like this blog post…
But the moral of the story is: on these sites, do not take people at face value.  Hope for the best but be prepared to handle the clowns.  Know that it is a possibility that someone who sounds really good and looks really good is a scammer and who knows who is behind the keyboard and what their agenda is.
And most of all, remember that who you are attracting each time is evidence of your vibrational frequency.  You attracted them to you.  Don't let the time wasters get to you.  Just quickly move on and keep your focus on what kind of partner you really like and look for evidence of that.   Doing that will keep you in the mode to attract an upgrade.  Focus on the fools and you'll attract more of them.  Like Sofie.
And, of course, if you just like to hook up with random dudes you'll never see again, there's a whole playground out there.  Me? I'll kinda wait for the One who lets his entire lens be filled with me, the One who worships the ground I walk on and treasures me like the goddess I am.   But, hey, that's just me.
And, yeah, no wonder I'm single, right?
Online dating: E-Harmony vs. Match.com — Beware the Scammers
Online dating scams; hot singles are waiting for you
RELATED:  I found my old Match.com profile!