The October 2020 Horizons is now online at  http://horizonsmagazine.com/fb/10-20/mobile/index.html
Aries – (March 19 – April 18)
Make room for each other and a mental introspection, dear Aries! Until the 22nd, the Sun in Libra strengthens the place of your partner and associates. Hyper energized by Mars in your sign you will be forced to cooperate! Mercury in Scorpio until the 28th, comes to titillate your inner life, your relationship to the money of others and to mature your ideas.
Venus softens working conditions and the daily routine, from the 4th to the 28th. Before and after, it's more fun! Your socio-professional destiny is always boosted by the universe, last two decans, sacrifices and reworkings? Your financial sector feels the influx of Uranus into Taurus, first decan, an irreversible change in your source of income is underway. Change of job? Partnership created? From the 23rd to the 31st, the Sun in Scorpio strengthens your libido!
Love in General:
Between Mars at home and Mercury in your sector related to your sensuality, your libido should be powerful! However, since your relationship axis is impacted by an excellent fulfilment until the 22nd, you will have to take into account the expectations and needs of your potential partners. Venus in Virgo from the 4th to the 28th does not promote the expression of your bubbling temperament! Nothing is simple.
In a relationship:
It will be necessary to make some concessions if you want to maintain marital harmony. Under the influx of your planet Mars, a bit of a warrior, your other half could rebel! In the middle of the month, from the 4th to the 28th, learn to express your feelings with modesty and tenderness rather than ardor. Surprise your significant other!
Single:
The Sun in Libra facing your sign highlights your partner. Nevertheless, the planets relating to love are in harmony until the 3rd and from the 28th to the 31st. Apart from these short periods, perhaps the sky announces relationships without a future. Your free will belongs to you!
Taurus – (April 19 – May 19)
Influential partnerships and emotional joys, dear Taurus! Your sector of work receives the Sun in Libra until the 22nd, then Mercury and Venus at the end of the month: affirm your skills! Your vision of life changes under the metamorphoses suggested by the heavy planets of the sky, last two decans.
While Uranus is competing with the first decan to bring his liberating wind! Mercury facing your sign until the 28th, promotes good communication with your friends. Mars all month in Aries, accentuates a certain febrility, keep confidence in yourself. Neptune boosts your projects, second decan, learn to feel and follow your intuition. Venus in Virgo from the 4th to the 28th clearly favors your loves while the Sun facing you from the 23rd facilitates your conjugal life.
Love in General:
From the 4th to the 28th, Venus, your planet in Virgo, harmonious with your sign, supports you. On the program, emotional joys and stable, deep feelings. Mars in Aries, on the other hand, does not help the expression of your greedy sensuality, you could be too direct or in demand. Mercury in Scorpio induces in you a beautiful thrust of your intimate exchanges; a quiet strength!
In a relationship:
Diplomacy until the 22nd and a sweet daily life. During the last week, focus on your married life thanks to the Sun that joins Mercury in Scorpio: an intensity of exchanges and an increased importance of the other. Venus promotes your love life from the 4th to the 28th: you will have the words and the feelings to touch the heart.
Single:
Desire on the rise but a bit secretive. Would you be attracted for once by an insignificant love story? Mars invites you, in any case. A meeting is not impossible, especially after the 23rd. Your feelings remain the same, anchored, solid, do not fall in love with a person engaged elsewhere!
Gemini – (May 20 – June 19)
A beautiful highlighting of your creativity, and active projects, dear Gemini! The Sun in Libra until the 22nd brightly illuminates your emotional and creative sector! If you are a parent, your relationship with your children will be favored. Mercury, your planet, in Scorpio until the 28th announces an introspective thrust of your mind, you exchange in depth with your professional partners.
It will be even stronger from the 23rd, when the Sun will be in Scorpio. The heavy planets in your sector of life and death, second and third decans, continues a profound change in concepts. Venus from the 4th to the 28th softens your family life, while Uranus prepares you for major life changes, first decan. From the 23rd to the 31st, honor at work!
Love in General:
An harmonic life sector until the 22nd and the 28th to the 31st. Your powerful energy thanks to Mars in Aries announces a conquering, cheerful desire and especially tuned to your social circle. Romantic love? Venus in Virgo from the 4th to the 28th accentuates the cerebral expression of your feelings, modesty and reserve will be your assets in love. Be diplomatic, mischievous and delicate!
In a relationship:
A nice complicity for two. Until the 28th, under the leadership of Mercury, your exchanges are pleasant daily and without clouds. Even better, Venus in Virgo warms your home life with its beneficent rays, let go of your professional concerns, focus on the essentials. Mars in beautiful aspect promotes your common projects and your sensuality!
Single:
Your social circle is very favored for a quality meeting through friends. A dynamic and happy person could appear in your life! Unless a friendly relationship gradually turns into something more loving. Your sentimental expression is reserved this month, take your time!
Cancer – (June 20 – July 21)
Your home sector is stimulated and your socio-professional destiny is energized, dear Cancer! Naturally interested in your home, the monthly energies fill you with this focus of the Sun in Libra illuminating your family life up until the 22nd. A deep and powerful spirit under the effects of Mercury in Scorpio, until the 28th, your relationships and family benefit from it.
March in Aries shakes up your career a little: fasten your seatbelt! Your associative or conjugal sector continues its moult in the same regenerative momentum, last two decans! The liberating wind represented by Uranus blows over your social life or on your projects in order to free their potential, first decan. Beautiful spiritual evolution in progress, Neptune awakens the second decan. Last week: creative games? Venus from the 4th to the 28th facilitates your close relationships and you are optimistic!
Love in General:
The diplomatic influx of Libra until the 22nd, protects your emotional sector. Nevertheless, Mars in hyperactive Aries, a little bit brutal, could bring his share of harassment and mistreatment to your emotional balance. Leave your professional documents, do not react to possible provocations. From the 23rd to the 31st, the energies are very beneficial to your loves: tenderness, cocooning, a pampered home.
In a relationship:
Together, the impulses of the moment favor your conjugal life and your home, which you like to protect from prying eyes! Some original friends might burst onto the scene and shake up your anchored habits. Your feelings express themselves with delicacy, your libido, more rough than tender and could surprise your half. Is that not a good thing?
Single:
An unusual desire to surpass yourself! A quick conquest or relationship arises, it is up to you to give the tempo! Know that an ardently enthusiastic Mars sharpens your carnal appetite while Venus from the 4th to the 28th prefers tenderness. Sharpen your claws but not without sensitivity!
Leo – (July 22 – August 21)
A beautiful monthly energy and relationships are favored, dear Leo! Until the 22nd, the Sun in Libra illuminates your close relationship sector and benefits your optimistic mind. Mercury in Scorpio, square of your sign, invites you to introspection. Its effects impact your home or your family relationships until the 28th.
A superb and enthusiastic energy animates you all month! A nice monetary surprise could come thanks to Venus in Virgo from the 4th to the 28th. Your professional transformation continues, two last decans. Have you thought about a health check-up? (same decans). Uranus pushes the first decan to live a major socio-professional change, while Neptune slightly weakens your financial pragmatism, second decan. During the last week, the home and the family need your attention.
Love in General:
Venus gives you feelings at first glance that are light and shy but that are nonetheless possessive and exclusive! Your libido under the aegis of Mars in Aries, in beautiful aspect to your sign, foreshadows a powerful sensuality, uninhibited and conquering. Also, manage with moderation the powerful planetary influxes. The temperature may climb under your comforter during this autumnal month!
In a relationship:
Your conjugal life is favored, especially if your partner has the same sensual energy as you! Some delicate discussions may nevertheless darken your complicity, keep this in mind and make sure you only roar at your other half wisely! Strong, whole feelings, measure and delicacy, everything will be fine.
Single:
Hyper dynamized all the month by Mars you will have it at heart to obtain the person whom you covet. Opt for a personality who is of foreign culture to yours and open your eyes if you travel in the early autumn. Until the 22nd, the sky favors your exchanges and your meetings. It's up to you to play!
Virgo – (Aug 22 – Sept 21)
Focus on your assets and your emotional joys are favored, dear Virgo! The Sun in Libra until the 22nd lights up your sector relative to salary and money. Venus enters your sign from the 4th to the 28th, you are powerfully charismatic! Mercury, your planet, in Scorpio until the 28th, sharpens your analytical mind and makes your intellectual exchanges deep and your travels fruitful.
The heavyweights of the zodiac breathe change, regeneration and legalization into into your loving and creative sector, last two decans. Uranus in Taurus in beautiful aspect to your Sun, first decan, opens new perspectives to your life. Mars in Aries pulses your libido and creates an attraction for the hereafter and the cosmic mysteries! From the 23rd, the Sun in Scorpio facilitates your steps and your exchanges with others.
Love in General:
From the 4th, Venus settles in your sign and crowns you with her many assets: charisma, attractive power, diplomacy and other benefits! You are well off this month to foster a fulfilling emotional life. Mars in Aries, abrupt and burning, on the other hand, invites you to let go of your fears, your doubts, your modesty. Adapt yourself!
In a relationship:
A beautiful harmony in perspective with your other half, especially if you relativize the monetary questions that could appear until the 22nd. Learn to relax without trying to always understand everything. Your sensual life is subjected to the pressure of Mars in Aries, live this rise in power of your instincts!
Single:
Emotional rapport is favored. Your charisma rising from the 4th to the 28th will not leave the people you meet indifferent. As for your sensual ardor it should be at its height! It is therefore up to you to anchor in your life the changes you hope for.
Libra – (Sept 22 – Oct 21)
There is an increased importance of others, dear Libra! An absolute sign of balance, the Sun rests in your home until the 22nd, happy birthday! In front of you, Mars in Aries accentuates the importance of others. Favor partnerships and ensure a balance between each other, measure and equity.
Venus, your planet, in Virgo from the 4th to the 28th, announces a waking up of your emotional nature, the past can also come back to play a role in your life. Until the 28th, Mercury favors your financial affairs and other transactions. Uranus in Taurus announces a very important financial change, first decan, as well as a modification of your sensual needs. Your household sector and family, receives, in disharmony, the heavyweights of the sky: it's swinging! Be diplomatic, last two decans, major changes are in progress. During the last week, focus on your assets!
Love in General:
You could feel a touch of nostalgia! Love carries you and transports you but this month, it will be rather secretive, away from the eyes of the world. On the 29th, this love enters your constellation: you radiate! Mars in Aries, in front of you, passionate and sometimes conflicting relationships, so stay alert. A love from the past tickles your heart?
In a relationship:
Mercury in the percussive sign of Scorpio until the 28th, could incite you to practice the words that hurt all the more so because your other half should not be allowed under the influx of the warrior planet Mars! Temperance! Your feelings escape you a bit, your spouse could suffer, your relationship too. Question yourself.
Single:
A relatively mild influx for you, single friend! A powerful dynamism, a Venus in search of a love story, it's not so bad! Unless a past love comes back to heat up by the warmth of your heart? The passion reignites? A real desire to marry this time? Only you have the answer.
Scorpio – (Oct 22 – Nov 20)
An outstanding spirit and social satisfactions, dear Scorpio! The Sun in Libra until the 22nd accentuates your introspective temperament, especially as Mercury, in your sign until the 28th, invites you there. Powerful energy at work, Mars in Aries could slightly destabilize your health, be careful.
From the 4th to the 28th, Venus in Virgo favors your friendship sector, softness and harmony, as well as your projects. Uranus in Taurus continues its conjugal or associative moult, first decan. You receive the romantic and spiritual impulses of Neptune, second decan, in your creative sector: inspiration! Your mind is boosted by Jupiter, Saturn and Pluto in Capricorn, last two decans, intellectual strength and regeneration of your surroundings, it moves in the right direction! From the 23rd to the 31st, the sun is coming home, happy birthday first decan!
Love in General:
Venus in Virgo in beautiful aspect to your sign announces satisfactions, facilitated in this field. Your particularly fertile social sector could amply promote your emotional well-being. Your feelings are a little reserved but possessive, your libido a bit excessive. Your hyper-sensual nature agrees very well with this slight imbalance. Your partner, if there is a partner, is accommodating?
In a relationship:
It rolls on the side of your feelings, you feel the tenderness and delicacy distilled by Venus. On the other hand, when it comes to your libido it gets stuck a bit. Mars who sends you his great energy can exceed the measure. Boosted by Mercury at home, your ultra-powerful mind will quickly rebalance things to your advantage.
Single:
A romance could start under the benevolent auspices of a meeting made through your social circle from the 4th to the 28th. Frankly challenged by Mars in the sign of fire, you will have the zest and the desire to go and find that special someone. Until the 28th, your words will fly, enjoy!
Sagittarius – (Nov 21– Dec 20)
Projects and creativity are favored, dear Sagittarius! The Sun and Libra up until the 22nd influences your social sector and your projects. Now is the right moment to surround yourself and plan what needs to be. Mercury in Scorpio until the 28th, pushes you to an introspection that is not very obvious for you, enamored of action and freedom as you are, it will be even stronger after the 23rd.
In contrast, Mars in Aries, in good agreement with your sign, announces a powerful dynamism tuned to your creativity and your loves! A reorganization of your finances continues to work under the irreversible influx of cosmic heavyweights, last two decans. You want, first decan, to reorganize your work, to manage your health differently, Uranus invites you there. Venus in Virgo softens your socio-professional sector, your charm could contribute to an improvement in this area.
Love in General:
A beautiful evolution of love under the dynamic effects of Mars in Aries! You will be keen to start something again or to pursue, with ardor, what already works. Intensity, longing, emotional issues will certainly be important during the month. However, your thirst for conquest must accommodate a shy Venus that can be a little annoying to your temperament. Forced patience!
In a relationship:
Until the 22nd, the Sun in Libra favors what you could do with your other half. Until the 3rd and from the 29th to the 31st, your feelings express themselves happily. Mid-month, force your nature a bit, your feelings are delicate. Your libido is in good shape, few words between you two but rather action!
Single:
The sky concocts some beautiful opportunities that you will need to seize as soon as possible! Your social circle is favorable to a change in emotional status, especially before the 22nd, forget the anxieties of Mercury and create what you wish to live. Mars in Aries supports your sensuality, your creativity. Real emotional chances this month.
Capricorn – (Dec 21 – Jan 19)
Socio-professional affairs and your home in focus, dear Capricorn! Until the 22nd, the sector attached to your career, receives the influx of the Sun in Libra: you are in the spotlight but there is pressure! Especially since Mars in Aries, camped in your family sector, imposes at best, divergent points of view and at the worst, opens conflicts.
Find your balance! Mercury in Scorpio supports you until the 28th, you will have the wit andl help from your friends. Your psychological metamorphoses is still in progress, two last decans, your inner strength is increasing. An unexpected and pleasant surprise, could revolutionize your love sector, Uranus titillates the first decan. You dream of ideal love from the 4th to the 28th, the expression of your feelings is easy. From the 23rd, the Scorpio energies increase your long-term plans, take action!
Love in General:
Intensity, increased search for idealized love, the monthly energies are quite strong. However, your feelings find expression especially from the 4th to the 28th, a tasty mixture of timidity and passion! Your libido is slightly on edge, do not take out your weapons without warning! Privilege communication, follow your intuition tenfold. Let yourself be brought to what Uranus has to offer, a pure touch of lightning!
In a relationship:
Leave your work aside before returning to your home. At home, pamper your couple, prepare for parties for two, away from family meals and sterile injunctions. Your conjugal success depends only on you, forget the rest of the world, travel together through your complicity!
Single:
Punch! Your heart may beat fast, overheating is in sight! You aspire for a great love story, this autumn the sky tests you on your ability to withstand the pressure. A cultural outing could encourage a friendly meeting or conversation, and at once raise a common interest. No running away.
Aquarius – (Jan 20 – Feb 17)
An ideal of life and a beautiful communicative energy, dear Aquarius! The Sun in Libra until the 22nd, invites you to review your higher conceptions and make some modifications. Mars in Aries boosts your morale, your travels and your desire to communicate. Venus favors your romances until the 3rd, then activates an intensity at once strong and a little destabilizing, from the 4th to the 28th.
Uranus in Taurus comes to play the spoilsports in your home and your family, it is a slow process, adapt, first decan. You are continuing your financial reorganization, second decan. Still in your introspective sector, the heavyweights of the zodiac distill their regenerative and essential messages, last two decans. Your mind is completely turned towards your socio-professional destiny until the 28th in square to your sign, possible anxieties. From the 23rd to the 31st, increased vocational importance?
Love in General:
The beneficial opening to your relationships will be clear all month under the influx of Mars. However, your mind is slightly tormented by Mercury in Scorpio until the 28th and suggests a bit of discord within your relationships for lack of hindsight. Also, focus your energy on the emotional intensity that Venus offers you and let go of negative thoughts. Soften your mind!
In a relationship:
The monthly energies push you to move, to change your daily life, so prepare a suitcase and go on a romantic trip, success is guaranteed! Exchanges with your other half may not be lukewarm, but who would want that? Certainly not you! Your desire will be powerful, live this beautiful sensuality in love, together.
Single:
Until the 22nd, a meeting remains possible, during an outing, or at a neighborhood party. Your feelings could be whole and more powerful than usual. Unless a difficult love at first sight hits you, first decan!
Pisces – (Feb 18 – March 18)
Boosted finance and increased magnetism, dear Pisces! The Sun in Libra until the 22nd endows you with a particular attractive power, even a bit haunting! March in Aries powerfully boosts your financial sector, inflows and outflows in expansion, a balance will be found. Uranus pushes the first decan to open themselves to other modes of expression, some unexpected movements will be beneficial.
Second decan, you still receive Neptune, your planet and you take spiritual flight! Venus facing your sign, from the 4th to the 28th, makes room for the other, for your conjugal or associative life. Until the 28th, Mercury in Scorpio gives you a mental strength, your thoughts are deep, devoid of pettiness. A nice social sector, that which is solid stays anchored, that which is fragile disappears, last two decans. From the 23rd, an administrative ease.
Love in General:
Your sentimental nature is more complex than it seems, the planets have fun with you! On one side Venus from the 4th to the 28th favors your love while Mars in Aries causes discomfort felt by this abrupt energy, your libido is not a warrior. Also, refocus on your innate romanticism, do not listen to that little wild voice that sleeps within you.
In a relationship:
A lot of intensity between you during this month, something to bring you even closer together. You share your feelings easily, your communication is intuitive, deep and awake. The only downside is that the intrepidity of Mars could introduce a bit of sensual aggressiveness or a bit of untimely possessiveness. Show your love with all your pure romanticism!
Single:
The little fish is like a shark? Your determination will be important but do it in good form! Uranus and Venus from the 4th to the 28th favors the meeting of a person likely to become your life partner within your entourage. With your quiet nature being ultra-dynamized by Mars, do not jump the gun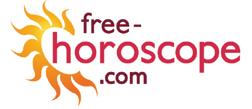 Expanded text for each sign is available at www.free-horoscope.com