Hello. Although I have many clients from around the world, perhaps we've never met, so I was asked to share a bit about myself. I now spend my time between Los Angeles and South Florida. Having lived in Hollywood, Florida from 2003 – 2010, I am a long time reader and fan of Horizons. Through a totally synchronistic beauty of the Universe, I'm now delighted to be a part of Horizons Magazine.  As a soul based astrologer, I talk to many people about life purpose, but I was unable to grasp my own for many years. And, I have lived through those 'Dark Nights of the Soul'. Many of my Florida friends helped me recuperate from a tragic automobile accident in 2004. I also endured many miserable J.O.B.'s. I always loved astrology, and had done readings part time since the age of 14, but never thought I could make a living doing it.  However, in 1998, after being fired from a (terrible) job (that I hated) as an Administrate Assistant, my world crashed – hard.
After sitting on the couch and crying for a week, I gathered up my courage and took out a small ad in a weekly newspaper offering my services as an astrologer. This turned out to be a game changer because within a few days I was offered an astrological column in a startup magazine out of Portland, Maine called 'Inner Tapestry'. The rest is history.
The ending of those days of suffering was the beginning of my journey to living my passion.  And this is why I know it can happen for you, too! My grandmother inspired me to look at the stars, and she also taught me to live by the Golden Rule.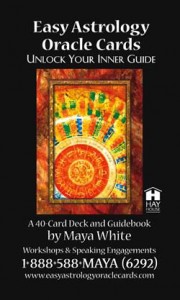 Louise Hay taught me about the power of affirmations and positive thinking, and having my Easy Astrology Oracle Cards published by Hay House is another miracle that came as a blessing to my work in astrology and as a writer.
What I know is that miracles are/can be a part of your everyday life; that you can live your passion and express your talents – the ones revealed by your astrological chart. As your astrologer, writer, and translator of the Universal Language of the Stars, I am committed to conveying a positive message and offering solutions.  I want to make YOUR world a better place to live.
With love and gratitude,


Visit Maya at MayaWhite.com