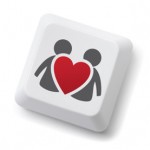 A friend and I were talking the other day about online dating sites and I shared my links below with her.  Then I searched and found my old Match.com profile.  I'd probably say the same thing today if I were looking.  I'm not looking.  Check it out: "I'm an easy going, kind hearted, independent person who finds fun in everything I do.  I am a writer and publisher, with a private consulting practice. I do not smoke cigarettes or drink, but it's ok if you do. It's not ok if you get sloppy drunk or burn holes in anything I own 🙂 I enjoy helping friends create habitats in their yards to encourage wildlife. I like to garden. While I embrace my times of solitude, I love spending time with friends who are interesting. Who you are is a lot more important than what you have or what you do. Good teeth is a plus; doesn't matter if they're yours. Hair is irrelevant, bald is just as sexy as a ponytail.
For fun: Quiet times in nature, yoga, meditation, biking, kayaking, meaningful talk with someone who gets it, spirituality, gardening, real estate, working out, writing, publishing, painting and sketching. I dance in the moonlight and howl at the moon.
My job: Former criminal defense paralegal, I am now a writer and publisher. I also coach and mentor people in their personal and career goals.
My ethnicity: Member of the human race. Ok, ok, Italian, Scottish and Cherokee.
My religion: Former Catholic, former monastic, leaning toward Buddhism, believe Jesus was a dialed in dude. Everyone entitled to their own beliefs and should do what works for them. I have dated Buddhists and Baptists and see past labels to the person. No preaching, please.
My education: My education in Miami trained me as a criminal defense paralegal, which was interesting and fulfilling and yes even fun for 20 years. Now what I am doing today is more fun and more fulfilling. And I don't have to answer to anyone. Yay!
Favorite hot spots: I enjoy walking in the mountains, light hiking in cool weather and meditation retreats. I like planning new adventures to fun places. I enjoy driving across the country. It's also very fun right in my own backyard feeding squirrels and birds.
Favorite things: I love interesting healthy food. I garden and feed birds. I don't watch much tv or go to movies. I enjoy reading about the lives of people on their spiritual path. I enjoy music, drum circles, chatting with friends, investing, wishing, dreaming.
Last read: If The Buddha Dated by Charlotte Kasl
Molecules of Emotion by Dr. Candace Pert
Biology of Belief by Dr. Bruce Lipton
Meet Your Happy Brain Chemicals by Loretta Breuning, Ph.D.
Ask and It Is Given and The Law of Attraction by Jerry and Esther Hicks
About You: You having a job and owning your own home tells me you're an independent and responsible man who looks to the future. You being debt free tells me you've got some basic good sense… wait, am I looking for a unicorn here???? OK, back to reality… Your weight and size is irrelevant, however I am interested in continuing eating healthy foods and being active on a daily basis. It would be fun if you were also, but if not, I promise not to make you my next makeover project. I am not a vegetarian, however I don't eat hunks of meat on a regular basis, and no beef or pork. I've got 20 extra pounds and I don't fret about it.
More About Me: I don't have hangups about who's tallest. I like to be out and moving when the weather is nice. I live in Paradise! It's more important to me to find someone I can have fun with and be crazy about who is crazy about me, regardless of likes, dislikes, looks, personality traits, etc. I'd like to know what you think about the world you see around you. I'd like to be introduced to new ideas and new interests and share some of mine with you. I'd like to support you in your goals, even if they are only to lie around in a hammock or fish all day.
I enjoy studying and researching topics I am interested in and appreciate the company of a man who enjoys the same. You are interested in something – anything – passionately and have enthusiasm for it. Maybe you're only passionate about finding what it is you can have enthusiasm for… I appreciate the personality of the quiet, shy and reclusive type. I value personal privacy and give others lots of space for it. I am interested in exploring consciousness and I meditate as a daily practice. Since 1992, I publish Florida's mind/body/spirit magazine. While I like to contribute to making the world a better place, I am not an activist. While animated and lively, I have a mellow and easy going personality.  Enneagram 7, Myers Briggs INFP.
I enjoy travelling by car. I enjoy music, some classics but am not an oldies freak, jazz, reggae, instrumental, rock and pop at times, Indian ragas, kirtan and bhajans. I enjoy eastern philosophy. I seldom have the tv on. I am not interested in casual sex or the dating scene. I'm basically a grownup tomboy seeking more of a muse and best buddy at first and see how it goes from there *thanks*
Online dating: E-Harmony vs. Match.com — Beware of the Scammers
A Fly On The Wall Of A Dating Site Hook-Up with a Scammer
Online dating scams; hot singles are waiting for you
RELATED:  A realistic personal ad