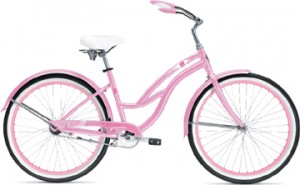 Here's my cushy Moonbeam Pink Sun Retro bicycle with her newly inflated tires, 40psi please. With her new front light – she's legal!  I pulled her out of the shed where she's been for a couple of years, and I polished her up.  She has 2 baskets and she's ready to cruise.  Saturday night I missed kirtan to stay in the office to finish final layout on the October Horizons Magazine.  I got my chant on while I worked. Afterward, I took a ride around the neighborhood on the bike.  Earlier in the afternoon, I bought an Oster convection oven which can roast lots of veggies at once, an entire eggplant along with peppers, onions and squash.  I tried it out last night.
It's my first convection oven. First I hit the BAKE button for 20 minutes at 375. Not much seemed to happen. Then I discovered the TURBO/CONVECTION button and did that at 375 for 35 minutes. My eggplant and zucchini were in chunks about 1″ x 2″.  It was awesome.
Sunday morning I woke up early and made Asian Spiced broccoli salad, along with my 10 Minute Parsley Hummus.  We took a bike ride and then a drive along the beach during the rain.  It was stormy on the way home. We pulled off the road and watched the ocean awhile, then exchanged vowels. I got an a and an e. We came home and feasted on broccoli salad, hummus and pita points, and a yummy hot soup with rice. A much needed relaxing Sunday after a crazy busy week.  I dug up several loquat saplings last week and tomorrow a few friends will come get them. I love sharing what I have an abundance of.  And lately that's been all Love, Love, Love. And loquat saplings.