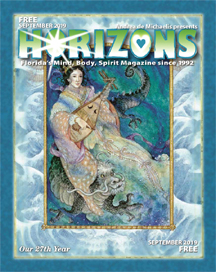 The September 2019 Horizons is now online at http://horizonsmagazine.com/mags_online/9-19-Issue.pdf . The flipbook version at http://horizonsmagazine.com/fb/9-19/mobile/index.html.  We are honored to have nationally known Maya White doing the monthly horoscopes. Maya White is a Master Destination Astrologer and one of only 90 people in the world certified in Astro*Carto*Graphy, a specialized branch of astrology which helps people find their perfect place on earth for love, prosperity, and personal growth.  Visit Maya's website and for an introduction to Maya White, see http://horizonsmagazine.com/blog/introducing-horizons-new-astrologer-maya-white/ Contact her and ask what she might do for you.  Here are this month's horoscopes: Cusp dates are accurate for 2019. Sometimes the actual date the sun enters the sign varies by a day or so because of a leap year, or, even the time of day. I assure you these cusp dates are correct for 2019.  
Aries – (March 21 – April 19) September energies are just right for you, Aries. Like a ping pong ball, the planets are literally bouncing off of each other.  Don't get stuck on any one thing; keep moving and you'll get everything done. Although you're moving fast, pay attention to nuance. Mars in Virgo is making things bit uncomfortable, but you cannot go it alone.  Strategic partnerships are the way to go now.
Taurus – (April 20 – May 20) Your good luck genie is activated by efficiency, Taurus. Of course, we both know that you create your luck through consistent hard work. But you have a little extra Buddha belly to rub now, so make a wish. The secret to success lies in keeping an open mind. You'll have to step outside of your comfort zone now, and quick decisions are the good ones. It's time to reinvent yourself, Taurus; pick an exciting template, and pour your heart and soul into the possibilities.
Gemini – (May 21 – June 20) September is the perfect month for an adventure, Gemini. You've been diligent for quite some time, and play is the lifeblood of your sign. Explore options for turning your passion into another stream of income. You're in a prime cycle to maximize long term goals; think about the big picture of what really drives your interest now. Apply the leverage of your natural curiosity to ease boredom, and something wonderful will emerge.
Cancer – (June 21 – July 21) Your professional loyalties are tested this month, Cancer. You're going to have to compromise in order to keep things running smoothly. What is confusing is that you're getting mixed messages; the right story is the one that protects your financial interests. Trust that when one door closes, another one opens. Happily, you are blessed by loyalty in love; this is something you have to give, and you receive in return.
Leo – (July 22 – August 22) The decision had to be made, and you took it on, Leo; now you become a professional juggler. Keeping all of you balls in the air can be challenging. Think of yourself as sitting on a 3-legged stool now and what you need to establish balance is full disclosure. No secrets allowed. Your ability to think outside the box gives new solutions to old problems. Listen to the whisper of your intuition.
Virgo – (August 23 – September 22) Keep things Light, Virgo. Mars in your sign all month feels like you're fighting a heavy wind when all you wanted to do was go for a nice boat ride. Slow down and make September the month for renewal on all levels of your being. Once you make the shift, you'll feel better, and then the good stuff kicks in.
Libra – (September 23 – October 21) One definition of karma is: 'divine intervention at work.' Think of September as your good karma month, and I see legions of angels with you; standing guard on your path. Turn on the Light, Libra. Any obstacles you feel now are illusionary; there is no other person who can keep you from your destiny. Take conscious steps to banish chaos, and always, always, fold back into your truth.
Scorpio – (October 22 – November 21) September is your month to clean up your act through diet and healthy lifestyle. You're under tremendous pressure and you need all of your energy. Plus, Saturn in Scorpio has you in training for heavy lifting. Activate your natural 8th house instincts; power, control, and careful planning gets youwhat you want. Don't rely on inspiration to get going; it's hard work that makes your life easier now.
Sagittarius – (November 22– December 20) It's all a big balancing process, Sag. Everything seems out of sorts, but that's just the way things are right now. The planetary tides are not easy to read, so don't let the contradictions drive you crazy. Rely on your inner GPS because nothing else is right; one sign reads 'left', but you know that you need to turn 'right'. Walk the middle ground until the 21st when questions are answered and it all starts to make sense.
Capricorn – (December 21 – January 19) Are you ready for a dramatic shift, Capricorn? September arrives with an opportunity for you to institute a change; something you've been contemplating for quite some time, but just couldn't find the right time. Nobody is really expecting your announcement, so there is no resistance for you to overcome. It's like giving birth, and now that the time is right there's nothing to slow you down.
Aquarius – (January 20 – February 17) Mysteries are resolved and secrets are revealed, but you may be surprised at the answers. This month unfolds like a good card game, Aquarius; hold out until the end before playing your hand. Like a good detective, you must dig into the crevices of untold stories. Apply your curiosity to a deeper exploration of motive, and then everything makes sense.
Pisces – (February 18 – March 20) You're really good at 'going with the flow', Pisces, so when plans change, just shift into your space of gratitude. The planetary energies of September are unpredictable, so just play along. The good news is that when things land, you're looking good financially. Keep your attention focused on new ideas and ways of earning income so when that sudden breakthrough lands in your lap you're ready to accept the gift.