I've been asked what it feels like when I feel connected, so I describe one occasion here for you. I find that nothing floods my body and mind with sensual pleasure as much as devotional meditation, or practicing the presence. I'm interested in our endocrine system and like to experiment with altered consciousness brought about by meditation and conscious thought, in effect "turning on" my neurotransmitters at will.   By consciously directing thought — serotonin, melatonin and endorphins are released into my system, allowing me to relax, and feel pleasure flooding through me. I had a neat vision the other day that flooded me with pleasure and evoked a Great Mother kind of image.   
Sometimes you're just having a good day and everything falls into place and you feel connected to everything and everyone.   You remember what your purpose is, you remember to be thankful, you remember to appreciate, you remember to be considerate and compassionate, and you're aware that you're remembering all these things, and it just feels right and natural to have it so. I'm blessed with days like that on a pretty regular basis. It feels like being filled with goodness bubbling up from my own heart by the grace of God's love.
A SPONTANEOUS VISION
So one day last month I spent visiting a friend and upon parting, we shared a hug as we always do. Suddenly, it became like suspended animation and I went into the no time state and though my eyes were open, it appeared everything had disappeared except he and I. I'm not talking a romantic thing here. I literally felt as though nothing existed except us floating in this sea of unconditional acceptance and total and complete love. Just as suddenly, he became everyone, myself included, and I was hugging and holding all of us, all at once. The love and acceptance I felt surging through my upper chest was so powerful, I briefly wondered if I was having a heart attack and thought how delicious it was, if so.
I LIVED A LIFETIME IN THOSE FROZEN MOMENTS
As I breathed slowly and deeply to prolong the delicious physical sensation I was experiencing, the scene changed again and the Many turned back into the One and I was nursing this heavenly child at my breast. He represented everyone ever born or ever to be born. Pure love and acceptance poured through me, nourishing him and I felt as would a mother with her beloved son. I breathed and the child became our planet Earth and I was holding it gently in my arms and then I was watching it miles away, yet all the same still a part of me. I felt the connection and I felt the love and acceptance and returned it and got it back, over and over and over again.   I breathed and opened my eyes as my friend and I were ending our hug. In those few seconds I felt as though I lived a lifetime.
KNOW WHAT ROUTINE HELPS YOU EASILY TRANSITION INTO CONNECTION
When I am in that connected place, I can feel the Presence of something much greater than I am, something that comforts me as I have never been comforted, accepts me as I have never been accepted and loves me as I have never been loved. I call this presence God and, although "He" is a formless God, I meditate upon Him in various forms.   Christians call this practicing the presence.   I use the pronoun "he" for sake of ease and familiarity altho there is no gender attached.
YOU'RE FORMING A BOND EVERY TIME YOU PRACTICE THE PRESENCE
In bhakti – or devotional – meditation, you practice the presence as well and, in doing so, you're developing a bond with the subject of your attention. Yoga, after all, means union. Practicing the presence is similar to when you daydream about your earthly beloved and imagine spending time together and immersing yourselves in each other. A bond begins to form and the more you practice the presence with your beloved, the closer the bond.
WHEN YOU FEEL CONNECTED, YOU ARE IN A POWERFUL PLACE TO UPLIFT YOUR FELLOWMAN MERELY BY FOCUSING YOUR ATTENTION ON BLESSING THEM
With daily meditation on the God of your understanding, the bond deepens as well. The more secure you begin to feel in that Presence, the more you'll surrender to it, and it is in the surrendering unto that we complete the circle and are One. In that Oneness, we feel whole and complete and satiated on all levels. The longer we sit practicing the presence, the deeper our bond.
MEDITATION RELEASES OXYTOCIN AS YOU FALL IN LOVE WITH THE OBJECT OF YOUR FOCUS
A friend and I were discussing bonding and the release of the bonding hormone, oxytocin. Physical and emotional contact can cause it, i.e. crisis situations together, nursing a child, sexual intimacy, and it's also released during devotional meditation. It's like falling in love. I'm interested in our endocrine system and like to experiment with altered consciousness brought about by meditation and conscious thought, in effect "turning on" my neurotransmitters at will.
YOU CAN TURN ON NEUROTRANSMITTERS AT WILL WITH MINDFUL DISCIPLINE
It is the goal of the meditator to achieve a particular state of consciousness, or frame of mind, at will, under any circumstances.   When through conscious directed thought serotonin, melatonin and endorphins are released into your system, you begin to relax, and stress is relieved as you feel the pleasure flooding through you. I find that nothing floods my body and mind with sensual pleasure as much as devotional meditation, or practicing the presence.
HERE'S MY MEDITATION PROCESS, STEP BY STEP
If you're meditating effectively, relaxation, pleasure and ever increasing clarity is a natural result of your meditation. However, if you're not sure what to do when you close your eyes, you can sit for an hour in a lotus position with eyes closed, but if you're giving your mind free reign, that's not meditation. I'll tell you my meditation process for practicing the presence, in case you want to do what I do and feel what I feel.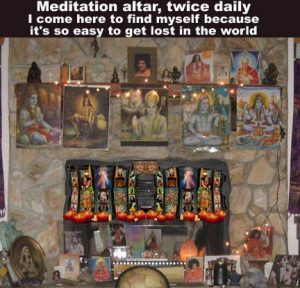 I get my body comfortable – for me that's sitting cross legged on the floor in front of my devotional area. My devotional area contains inspirational pictures and art depicting various sacred teachers, including Jesus Christ, Blessed Mother, the Dalai Lama, Sai Baba, Amma, Ma Yoga Shakti. While I believe that we are all a part of God and that God dwells within each of us, I am paradoxically aware of a Presence greater than any of us, and it is that Presence to which my devotion is usually directed.
So I sit in meditation and bring to mind the God of my understanding. I generate the memory and the feeling of His overwhelmingly Loving Presence. I realize I am not alone and He begins to feel as real to me as I feel to myself. I am conscious of my breath and body, and every motion and every breath is an offering to Him.
I then imagine that I am sitting in the lap of God with His chest to my back and His arms around me, completely enfolding me, cuddling me in a loving, affectionate way. I breathe in that image and remember the last time I felt cuddled and secure, safe and completely satisfied, so that nothing more in that moment was needed for complete love and satisfaction. I breathe in that image and hold that feeling as long as I can. I feel His arms around me. I feel His breath at my ear.   I feel the Love radiating from His heart to mine and from mine to His. I soon settle into a feeling that the personal God whose lap I was in has disappeared and I am immersed and supported by everything around me, animate and inanimate, and they are all just other forms of God.
I'm aware that God is never absent, it is just I who chose not to recognize Him in, as Mother Theresa said, his many distressing disguises. The more I sit and practice the presence, the more aware I am that I am never alone. The more I practice the presence, the more I am able to see God in everyone else around me, in all situations.
No matter whether this delicious frame of mind was brought about by serotonin or melatonin or oxytocin, there's a tangible difference and an elevation of consciousness every time, and each time builds upon the next. There's a power and a feeling of completeness when you know you are never alone, when you know that you are unfailingly being guided every moment of your life.
Variations of practicing the presence may be used as creative visualization to draw new experiences into your life. You can practice the presence of beloved friends and family in order to send blessings or healing energy to them. You can practice the presence of someone you'd like to know better, to begin to vibrationally resonate with them. You can practice your presence in a different career to attract exciting new opportunities. Meditation and visualization are two dynamic practices. Our mind is a powerful tool. Begin to use your mind to serve your awakened heart.
RELATED:  A vision of Sai Baba and Amma in… IHOP?
RELATED:  Andrea's Meditation Process and Links
Meditation Twice a Day Keeps the Outside World at Bay
Preparing For Relaxation; Preparing For Meditation; Daily Practice
Herbert Benson's Relaxation Response is Transcendental Meditation minus the ritual
Paving neural pathways to achieve meditation and access elusive inner states
Neurotheology: How God Changes Your Brain
Regulate your body chemistry: meditation as anti-aging medicine
A list of meditation's positive effect on some of your body's chemicals
Meditating to the superconscious state