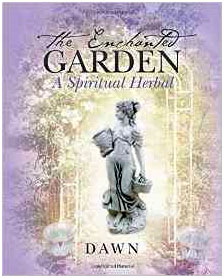 Dawn's Enchanted Garden is proud to announce the release of Dawn's new book: The Enchanted Garden: a Spiritual Herbal. This book is dense with information on spiritual herbalism. In addition, it is approachable and well-written, making the wealth of information it provides easily available to the average reader.  There are short introductory chapters setting out the author's approach to spiritual herbalism, but the bulk of the book is an alphabetical listing of each herb, giving the common names, Latin names, astrological association, description, parts used, folklore and history, spiritual uses, a case study, deity, angel, and spirit associations, a meditation, and a spell. For each herb there is, therefore, a case study, a meditation, and a spell. That's a wealth of practical information unequalled in any other similar text.  
Dawn initially learned about some of the spiritual properties of plants and the Earth's gifts as a child from her grandmother, but really began to use them in her spiritual practice in the 1980's. At the end of the book are appendices giving recipes for incenses, teas, and salves, as well as a listing of herbs by the areas they address. The information is practical and approachable, immediately useful to people with little or no training in herbalism. An extensive bibliography  gives students a guide where to go for more information.
The author is a well-known herbalist of long standing, a professional member of the American Herbalist Guild who has been a presenter at their annual conference, a past president of the North Country Herbalist Guild, and a founder of the Florida Herbalist Guild. She has studied with such luminaries in the field as Susun Weed, Rosemary Gladstar, and Matt Wood, as well as with Dottie Running Horse, a Dakota medicine woman and shaman. She met a spiritual teacher in 1990, and became a High Priestess in 1999. She has appeared as an herbal expert on television, radio, and in several print magazines. In addition, she is a registered nurse with an extensive medical background. The fact that she is able to give a case study for each herb she profiles attests to her vast experience.
Dawn has an herbal practice where she treats the physical, emotional and spiritual dis-harmonies that cause harm and dis-ease.
Dawn also has a medical herbalist training school called The Live Oak School of Natural Healing for advanced herbal training. Dawn has been featured as an herbal expert on television, radio, and in several print magazines and loves to teach about the amazing abilities of herbs and natural healing.

The Enchanted Garden: a Spiritual Herbal by Dawn is available on Amazon.com or ask your local bookstore.
Find Dawn on Facebook