Monday, December 22, 2008  This morning I woke up and did some bookkeeping and drove to the bank and post office.  On the way home, I stopped at Beall's and surprised myself by finding five blouses I liked and that fit perfectly.  I'm not a big shopper, but recently went down another size and it made more sense to buy new clothes than to keep taking my old ones in.  I caught myself in the mirror the other day and looked like I belong in a hiphop video.  Jeans too big, tshirts halfway to my knees, no telling what my body is like under all that.  So I've been practicing upgrading myself with a little style.   Plus Beall's was next door to the post office where I was anyway, and I had the credit card and discount card in my purse… and it was Monday, extra discount day.
In my 20's and 30's, I spent far more on my wardrobe than I do today.  Since I was often in court alongside whatever attorney I worked for, I dressed on par with the female attorneys.   I thought nothing of spending $100- $200 per dress in the 70's and 80's.  The fashion names were somewhat important to me, and I was in a profession where the women dressed very competitively.  These days, I have a handful of dresses and everything fits and is comfortable and I like everything in my closet.  I just seldom wear dresses.  But an upgrade to my casual style was definitely in order.
Into the closet I went, and moved jeans and capris to the back and brought to front several pairs of dress pants I'd recently acquired: blacks, greys, pin stripe.  I moved tshirts and pullovers to the side to make room for some silky blouses that were fitted and the proper length: just below my waist.  A white cotton shirtwaist, a beige silk open collar, a silky red shirtwaist, a deep mauve high collar, a deep purple high collar.  The shorter tops definitely made me look slimmer.
I pulled my black cardigan out of hibernation, and thought of buying a lightweight black jacket but am not really the suit jacket type.  Although I have been designing one in my mind and may take a trip to the mall after the holidays to see what's available in a real store.  Back to my closet… I brought out every scarf I own and realize I own a lot of scarves and wraps.  I buy them because they are pretty, but seldom wore them until now.  I don't have a developed sense of style, but have made myself watch some makeover shows and give my wardrobe a makeover.
I recognize that I for so many years had to dress for work: heels, pantyhose, dresses and suits, that when I no longer had to do that, I celebrated my fashion freedom!  Jeans and tshirts and sneakers became the uniform that was the symbol of my independence.  Sometimes I ran into "working" friends at lunch, and they'd be dressed for court and I'd be dressed for, well, canoeing 🙂  At first it felt very free.  Then, as I began to see photo after photo of me in a group, my style looked more sloppy than casual.  Then, as law of attraction would have it, I began running into various friends, sometimes being introduced to third parties, and feeling underdressed for the encounter.  The good news is, I can finally wear something right off the rack!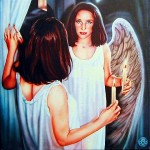 On these makeover shows, they give you all these kinds of quizzes to discover your particular fashion style.
I love to take quizzes that help me discover more of who I am, or let me see myself in a new way, from a new perspective.  
RELATED:  2010, I finally go clothes shopping