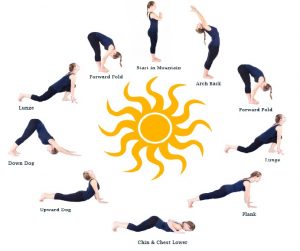 Yoga Shakti Mission  Palm Bay is celebrating the Summer Solstice and International Yoga Day this Friday June 21st 2019 with Hatha Yoga from 6 AM to 6 PM. All are invited to join us in the Yogashakti Pavilion for FREE Hatha Yoga classes.
6 AM – 6.30 AM Sun Salutations at Sunrise near the Siva Temple
6.30 – Aarti
8 AM Sun Salutations in the Pavilion (at your own pace, keep a count and we will tally a total)
8 – 9 AM Chanting and Asan with Sadhu Jaya
9 – 10 AM – Classical Asan with Anna Iacona Hutson
10 – 11 AM – Chair Yoga with Val Anderson
11- 12 noon – Mindfulness with David Warren
12 noon – Meditation on Light with Sonya – Ki
3 – 4 pm Gentle Yoga with Maryann and Jim Loafman
4 – 5 pm Classical Asan with Gajendra Giles
5 – 6 pm Meditation with Crystal Bowls with Susan Rizzo
6.30pm Aarti

All are welcome at any other times during the day to greet the sun with sun salutations or do yoga asana of their choice. For more info call Shyama at 321 725 4024 or yogashaktipalmbay@gmail.com
Held in the Pavilion at Yoga Shakti Mission, 3895 Hield Rd NW, Palm Bay, FL 32907
Light refreshments will be served. Call 321 725 4024 for more info. Join us to celebrate this auspicious day!