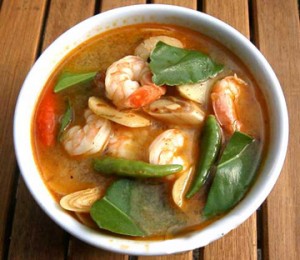 INGREDIENTS
1/2 pound medium shrimp – peeled and deveined (save shells and heads for stock)
12 mushrooms, halved
1 (4.5 ounce) can straw mushrooms, drained
4 cups water or chicken broth
2 stalks of lemon grass (will remove before eating)
4 kaffir lime leaves (will remove before eating)
4 slices galangal (will remove before eating)
1-4 chilies as hot as you like them (I use 2)
1 tablespoon tamarind paste
1- 1/2 tablespoons fish sauce
1- 1/2 limes, juiced
1 teaspoon white sugar
1 teaspoon chili garlic sauce
1 tablespoon nam prik pao or tom yum soup paste
1 giant bunch of fresh basil or cilantro for last minute adding.  
INSTRUCTIONS TO MAKE THE SOUP
Tie lemongrass into a knot for easy removal before eating.
To make stock: Add the shrimp heads and shells to water, then cook for 20 minutes.
Turn the fire off. Soak the heads and shells for further 20 minutes.
Spoon out the heads and shells and discard, reserving the stock.
Place the stock, lemon grass, kaffir lime leaves, galangal, chilies, fish sauce, tamarind paste, lime juice, sugar, and chili garlic sauce to a pot and bring to a boil. After boiling for 5 minutes, add shrimps and both mushrooms. Cook for further 10 minutes.
Remove the lemongrass. Spoon out the gangalal and kaffir lime leaves.
I crush about 20 basil leaves into the soup after it's in my bowl.
If it's too mild, add chili garlic sauce ¼ tsp at a time.
To make more sour, add lime.
If too sour, add ½ tsp sugar (or syrup or honey, but palm sugar is traditional).
If too spicy (the above recipe will NOT be too spicy), spoon the shrimps and veggies over rice and freeze the stock for another time.
If you liked this, visit my food blog –> Goddess Grub, Healthy and Luscious Low Fat Meals for the Goddess on the Go 
LISTEN FREE: Re-Program Your Eating Habits
Visit Goddess Grub, Luscious Low Fat Meals