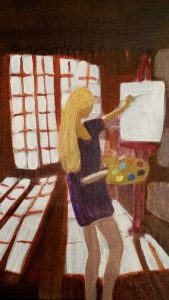 Watching painting tutorials this week, I notice they often have music in the background.  It's interesting to note the different types of music.  some classical, some rock, some heavy metal.  One said, "Painting without music is like trying to work in total darkness. Music is the light that switches me on in my work." I can see how that that can be so, but I much prefer to work in the soft, subtle nuanced world which is silence.
Silence for me is not empty, it is full of Presence.  By Presence I don't mean a rambling chain-of-consciousness babblespeak of hurried thoughts about daily doings.  I mean simply thoughts of observing what is in front of me, and letting myself be carried away by the beauty of that. I spend so much time each day thinking thoughts that I have to think for work, that I look forward to having thought time to think my own thoughts, to contemplate my own life. After I've done enough of that, I like simply steeping in the silence and observing what Inner Guidance reveals to me.
As I paint in the silence, thoughts and images come to me to help me create each piece.  One reason I paint is to allow the different facets of me to reveal themselves to me.  They do this by impressing upon my mind the imagery of elements and totem animals. In the researching, Googling and contemplation of the meaning of the words and images that come to mind, I discover the metaphor relative to me and learn a lot about myself.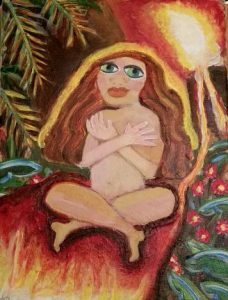 For instance, I'm doing a painting of Pele, the Hawaiian Fire and Volcano Goddess and she's sitting in a lava flow.  Never having felt compelled to paint lava before, I didn't know much about it.  Researching lava taught me a lot about facets of my own personality. Where lava flows, there is complete destruction, yet it forms the foundation for new life, indeed it forms the very ground the islands exist on.  The message is that renewal is constant.
Listen to music while painting? My choice is time alone in my own beautiful world with my own thoughts, with my own beloved Self.
Andrea's Art Gallery here
Painting is a daily meditation for me
Painting as a method of altering consciousness
Doing a series of paintings as a form of shamanic soul retrieval