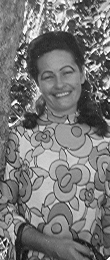 I wrote in I Remember Momma about how my mom died on April 8, 1996 of her first heart attack.  We didn't expect it, she'd not been sick, so there was no time to worry beforehand.  My mom and I were very close and we spoke on the phone nearly every day.  I always thought that when she passed I would freak right out, but surprisingly I didn't.  In fact even now, 15 years later, it still feels as though she's just in the other room and that I can speak with her anytime I want to.  In the two days between her heart attack and passing — which we did not know was going to happen —  she was heavily medicated and could not speak, yet managed to open her eyes very wide once in order to look me in the eye and let me know she was still in there.  I talked to her and I whisper-sang to her.  Her lips looked dry and I asked if she wanted Chapstick.  She pursed her lips and I put the Chapstick on her.  It was the most holy moment I ever spent with her.   
She sent me a poem on my birthday April 10, 1995, that read:
Daughter, you're an inspiration to me
I wonder if you know just how much I admire you,
For living every day exactly how you wanted to.
For never limiting yourself to play one single part,
But rather taking time to dream and listen to your heart.
I admire how you see things with such depth and clarity –
you have so much direction at your age, compared to me.
And though I may not always understand your point of view,
I have so much respect and so much confidence in you.
For facing every challenge as a chance to learn and grow –
your inner strength and wisdom run much deeper than you know.
But should you ever need a little extra faith or care,
From someone who believes in you, just call and I'll be there.
For no matter what you think or do, 0r whom you choo0se to be,
no one is a bigger fan or loves you more than me.
### end of poem
Mom was the best inspiration a kid could have.  She supported me in everything I did and encouraged me to dream.  She told me anything was possible.  She told me I was born under a lucky star and I've spent my whole life believing that and proving her right.  I love you, Momma, we'll meet again.
A fave song of mom's was Mahalia Jackson's Soon I Will Be Done With The Troubles of the World
Soon I will be done
With the troubles of the world
Troubles of the world
Troubles of the world
Troubles of the world
I'm going home to live with God
No more weepin' and wailin'
No more weepin' and wailin'
No more weepin' and wailin'I'm going home to live my Lord
Soon I will be done
With the troubles of the world
Troubles of the world
Troubles of the world
Soon I will be done
Troubles of the world
I'm going home to live with my Lord
I want to see my mother
I want to see my mother
I want to see my mother
I'm going home to live with God
Soon I will be done
With the troubles of the world
Troubles of the world
Troubles of the world
Soon I will be done
Troubles of the world
I'm going home to live with God
RELATED  I remember Momma 2010
 I remember Momma 2009 (Poem: If you could see where I have gone)
A Friend and I Talk About Dying and Easy Transitions
The End of Death As We Know it  – What The Crossing Over Experience 
Was Like, As Reported By Those Who Made The Transition