The August 2020 Horizons is now online at  http://horizonsmagazine.com/fb/8-20/mobile/index.html
Aries – (March 19 – April 18)
Unusual dynamism and an emotional sector in focus, dear Aries! You will not stay in place, so plan a lot of activities! Mars at home accentuates your natural zest. Until the 22nd, the Sun in Leo lodges in your love sector: renewed passion or a summer fling? From 6th to 21st, Mercury in Leo supports your requests and your communication. During the first week, Venus in Gemini promotes a meeting, from the 8th to the 31st, love is at home! A global cluster slightly shakes up your socio-professional sector, except for the third decan, some readjustments are to be expected in September. Uranus in Taurus square in your Sun, first decan, creeps into your wallet: surprises are on the program! From the 23rd, the Sun and Mercury arrives in Virgo and prepares you nicely for the imminent fall.
Love in General: A hyperactive loving sector under the light of the sky, it is likely that this month is alive with ardor and not only because of the atmospheric heat. Until the 7th, Venus in Gemini in beautiful aspect of Mars facilitates your desire for conquests, take advantage of it. From the 8th, Venus comes to soften the atmosphere of the home or your family relationships, nice if you are on vacation!
In a relationship: Quiet harmony until the 22nd, nothing unpleasant to report! Better, from the 6th to the 21st you finish each other's sentences, your exchanges are filled with tenderness and mutual respect, even a touch of mutual admiration. Your ardor distilled by Mars and could help you make your partner understand how important their presence is to you.
Single: Until the 7th, the universe supports your requests in love. Ask it what is good for you, and your vibrant heart, it could fulfill your wishes! A strong meeting of destiny, can incarnate, second and third decan, but not necessarily long-lasting. Stay open to family invitations and show your sometimes rough and ready tenderness.
Advice from FREE Horoscope:
A relatively pleasant month if you choose to spend it wisely! Indeed, subject to the influx of Mars, your drive is out of the ordinary and requires a healthy and relaxing outlet from time to time. For you but also for others!
Taurus – (April 19 – May 19)
An awakening in progress, dear Taurus and nice relationships! Uranus in your home produces a growing desire for a transformation of your deepest personality, first decan. A month conducive to your children, if you are parent or your home thanks to the Sun in Leo until the 22nd. You pursue a changing ideal also under the influx of Jupiter, Saturn and Pluto. What do you want to live really? Mars in Aries does not trouble you anymore, his burning energies remain under your control. Venus, your planet, sometimes in Gemini sometimes in Cancer, serves your finances or your relationships. From the 23rd, your thoughts turn to love, Sun and Mercury in Virgo encourages them. Enjoy a benevolent and helpful social circle, especially the second decan, Neptune distributes his graces.
Love in General: Your feelings are expressed cheerfully until the 7th, especially since a cash income, perhaps a bonus, could increase your inner well-being. At home, when it comes to money, everything is alright! Then beauty is sweet in Cancer from the 8th to the 31st, it activates your innate maternal tendencies regardless if you are a woman or a man and produces beneficial and easy exchanges with those around you.
In a relationship: A peaceful conjugal life. You are then focused on your intimate exchanges. You like to live slightly removed from the world, your intimate relationships only have eyes for you. The Sun in Leo until the 22nd favors that! Mars breathes sensual ardor all month long and you never need a stimulant!
Single: During the last week, the sun illuminates your sector of love. Your chances are real especially under the beneficial influx of Venus from the 8th to the 31st. Mars in Aries may allow a secret love affair, but this is not your cup of tea. Express your qualities of sweetness, and simplicity and let go.
Advice from FREE Horoscope:
A nice month in perspective. You are slowly but surely advancing towards the best version of yourself. For the whole of the sign: enjoy this season of cheerfulness and the sweetness of life, so dear to your bucolic and peaceful nature, let go.
Gemini – (May 20 – June 19)
Focus on your surroundings and your outstanding projects, dear Gemini! Until the 22nd, the sun in Leo harmonically connected to your sign opens the doors for your communication. Mercury, your planet, sweeps three signs each time inducing a specific mode of expression. You will be pushed to express yourself in a very different way during this month. Venus is home until the 7th and promotes your well-being, in Cancer from the 8th to the 31st, she facilitates a return of money. Your projects will advance quickly and well pulsated by Mars in Aries infusing its powerful dynamism! In Capricorn, the heavyweights of the zodiac inspire deep introspection. First decan, wait for the unexpected, Uranus in Taurus! Your socio-professional sector receives Neptune, second decan, do not let yourself be deceived by fine words. From the 23rd to the 31st, it moves at home!
Love in General: Until the 7th, Venus and Mars in beautiful aspect to your sign endow you with relational qualities likely to favor your loves. A vibrant heart and an intense libido, you will be well off! Then, Venus moves into Cancer and benefits your finances from the 8th. Sensitive and reserved it is not appropriate for your light and spontaneous nature, so annoyance in your loves is possible.
In a relationship: Movements for two are favored until the 22nd, especially if you're on vacation, you go out without restraint! A beautiful eloquence from the 6th to the 21st, you have the assets to captivate your other half again with your sweet choice of words. Your libido will be toned, your feelings practical. Let yourself live!
Single: Your social circle may have some sensual dating opportunities. What are you looking for in the other? Answering this question will help you clarify your implicit demands to the universe. The first week is vast, Venus is one with you. Other weeks are less inclined to feelings. Patience.
Advice from FREE Horoscope:
Mental agitation with Mercury, sometimes intuitive, sometimes royal, sometimes practical! That said, you know how to play your intellectual adaptability, these energies should rather stimulate you! Nevertheless, think about taking breaks, hyperactive Mars will also boost your physical expenditure. Take care of yourself!
Cancer – (June 20 – July 21)
Focus on your money and your friends, dear Cancer! Summer is here, the Sun in Leo until the 22nd benefits your financial sector, find the balance! Your social sector opens up to originality, Uranus, while your ideal of life continues to transform towards ever more spiritual openings, Neptune. The sector of partnership, under the energies of the heavyweights of the sky, continues its irreversible metamorphosis, except for the first decan. Are you satisfied with your married life? Mars in Aries square in your sign impels a strong or even abrupt energy to your socio-professional sector. Do not look for conflict at work, soothe yourself. From the 23rd to the 31st, the Sun in Virgo and Mercury bring a fresh touch to your neighborhood relationships, your mind is clear, practical and effective.
Love in General: Modest feelings until the 7th, Venus arrives home on the 8th and everything changes! Jupiter Saturn and Pluto facing your constellation urge you to test others and to look for stability in a serious relationship, except the first decan. A clumsy energy under the nervous influxes of Mars in Aries, stay focused on your inner calm. You are affectionate but impulsive: caution!
In a relationship: This sector is always subject to deep questioning. A heart like a cyclone, last two decans. No worries no fear! Your relationship is regenerating! Your partner evolves and changes and so does your relationship. A powerful libido and a heart in phase thanks to Venus in your home: use your immense tenderness!
Single: Without your knowledge the sky concocts many emotional turns. Can you recognize them? Live them? A friendship could suddenly turn into something else, first decan, unless a neighborhood relationship erupts at the end of the month. Calm down this inner fire, your nature hardly likes when it burns!
Advice from FREE Horoscope:
Be sure to balance your budget especially during this period! The universe offers you some challenges, certainly, but all in connection with your evolution. Enjoy the energy of Neptune, especially the second decan, do not resist the call of the invisible any longer!
Leo – (July 22 – August 21)
You shine like a thousand lights boosted by an active energy, dear Leo! Until the 22nd, the Sun in your home will benefit your royal aura. Mercury joins him from the 6th to the 21st, a lively mind on the program! Mars in Aries facilitates great trips, enjoy.
Otherwise feel this fighting energy for a philosophical purpose! The heavyweights of the sky infuse your daily life with an anchoring wind of transformation undergone. Uranus in Taurus pushes you to free yourself from something. Bet on Neptune, second decan, to better manage your life in a search for authentic reality: smoke and mirrors? From the 23rd to the 31st, the Sun in Virgo manages your finances, Venus your friends until the 7th, then your inner life.
Love in General: Two distinct affective periods: until the 7th your love life is favored by Venus in Gemini offering friendly exchanges, which take flight. Then, from the 8th to the 31st, the beautiful one who has come into Cancer is stealing a bit from you. A hyperactive Mars, all month long, reserves its sensual power without moderation. Adapt yourself with nobility to the hazards of a Venus playing hide and seek!
In a relationship: :You will not lack zest or eloquence! Take this opportunity to relive your honeymoon with your partner. You aspire this month to get away from your daily routine, do it together! From the 8th, your feelings could be a bit secretive or modest. Why so much mystery?!
Single: You have the wind in your sails until the 22nd, you shine and it helps considerably to meet people. See your friends, a person younger than you could tickle your senses! Your intense libido is responsible for completely conquering the object of your quest. A love from the past?
Advice from FREE Horoscope:
Except for Uranus, which shakes up your destiny, first decan, this month promises to be dynamic and sympathetic! Let go of what is needed in your daily life, third decan, enjoy the moment, surround yourself with positive people! Carpe Diem.
Virgo – (Aug 22 – Sept 21)
A summer introspection and loving relationships, dear Virgo! Until the 22nd, the Sun in Leo benefits your inner life as a sort of break you have given yourself. Mercury, your planet supports your loving sector until the 5th, your inner life until the 21st and your personality after the 22nd. Your brain will love you! Mars in Aries pulses your relationship to the money of others, you want to make changes in your life. Neptune in front of your Sun, second decan, brings dreams and magic to your conjugal or associative relationship. While Uranus in Taurus could mean a major change in your ideal of life, first decan. From the 23rd, the Sun enters your constellation coming to join Mercury: charisma and intellect at a zenith!
Love in General: Pleasant and romantic perspectives! Indeed Venus sometimes in Gemini until the 7th and Cancer until the 31st alternately offers your sign a sentimental flight stimulating your intellect or a friendship that will gradually turn towards a relationship. Your libido will be increased under the influx of Mars, channel this creative power in a good way.
In a relationship: Jupiter Saturn and Pluto in Capricorn station themselves in your emotional sector and induce an active search for stability. Want to legalize your relationship or have a child? You idealize your partner a bit, thanks to Neptune! The magical dimension of life for two touches you, more and more, you trust your partner!
Single: Revisit your classics until the 7th with Venus in Gemini there is a cerebral desire, everything you love, in your conjugal sector! From the 8th to the 31st, your social circle surrounds you! Mars in Aries gives you a sensual cleansing, in order to know how to manage and live it in harmony.
Advice from FREE Horoscope:
This month is relatively easy for you. A beautiful and varied mental energy carries you to take a look at many parts of your life. It's summer, know how to really relax! Play sports in case of physical intensity that is difficult to channel, you who enjoy a healthy lifestyle!
Libra – (Sept 22 – Oct 21)
Projects, friends and spiritual openings, dear Libra! The Sun in Leo in beautiful aspect of your sign until the 22nd, suggests a solid and loving social network, a real source of joy! Mercury in Leo from the 6th to the 21st, offers an ideal time to start a project or consolidate a friendship. Mars in Aries facing your sign installs a climate conducive to very important relationships, partners or associate will have a say! Jupiter, Saturn and Pluto shake up the home and family, last decan. Uranus in Taurus awakens your relationship to money, as well as your relationship to life and death. Venus, your planet, boosts your idealism until the 7th, then your career! From the 23rd, the Sun in Virgo accentuates your inner life.
Love in General: Passion or conflict repeats, choose well! Mars in Aries is belligerent and hard, he does not tolerate the fragility that he wrongly confuses with weakness. So, in your relationships, play for time, let go, especially of the ego. Your feelings are tuned to somewhere else, without any fuss. Until the 7th. From the 8th to the 31st, show your delicacy, it's your trump card!
In a relationship:
A beautiful period! You get closer to your other half, your complicity is on the rise especially through pleasant activities that you share, until the 22nd. Your couple is dynamic, play sports, challenge each other and take them on together! At the end of the month, offer a spiritual retreat to your partner for a guaranteed renewal!
Single: An encounter remains possible under the explosive lighting of Mars in Aries. Be aware that this planet does not incline toward sustainability or serenity. In other words, if you are looking for a tender and reserved partner, go the other way! For a summer romance, however, it's perfect!
Advice from FREE Horoscope:
Count on your, often many, friends to participate happily in your well-being this month or prepare your creative projects for the fall. Influxes jostle your tendency to hesitation, a bit, but it is necessary, so allow it!
Scorpio – (Oct 22 – Nov 20)
Socio-professional Destiny in mind and a head full of projects, dear Scorpio! On vacation or not, you will be keen to consider your career or your entire life path until the 22nd! Relax a bit, everything in its own time. In full possession of your physical means, Mars in Aries can push you to imprudence, be moderate. Uranus facing your constellation continues its liberating questioning in your love life. Neptune, always in your love affairs, second decan, accentuates your inspiration and your romanticism hidden under the impassive mask of indifference. A planetary cluster in Capricorn deeply stimulates your mind and your self-confidence. It breathes into this sector, seriousness and responsibility. From the 23rd, your friends will pamper you!
Love in General:
:An overflow of energy injected by Mars into Aries will be managed to avoid conflict or accidents of any kind. Your feelings will be intense until the 7th, with a hint of playing games that suits your unpredictable nature. Then from the 8th to the 31st, appeasement will be clear, your feelings softer, more idealistic too. Some pleasant outings could favor your sentimentality.
In a relationship: Uranus in Taurus comes to reform your couple for the best, first decan. Your relationship evolves, your partner awakens and awakens you to another part of your story. Great! A powerful libido, a warrior and still tender? From the 8th, you pamper your other half with an attention that is almost maternal.
Single: Your daily life can encourage a meeting with someone sporty, dynamic and a bit of a sweet talker! You more or less like people who know what they want, so much the better! Your heart is demanding, Venus alternately mutinous or maternal leaves you free from your sentimental expression. It's your choice!
Advice from FREE Horoscope:
Leave aside your professional concerns, this summer period invites a temporary forgetfulness of your questions. Enjoy the powerful energy of Mars on fire to satisfy perhaps a virile hobby or an extreme sport. Your nature can not do without intensity!
Sagittarius – (Nov 21– Dec 20)
Spirituality and married life are favored, dear Sagittarius! Until the 22nd, the Sun and Mercury in Leo accentuates your natural inclination towards the elsewhere, all that exceeds the reduced limit of your vast imagination! Energy that explodes under the influx of Mars in Aries, your loves and your children reap the benefits.
Venus in Gemini facing your sign: marital or intimate harmony until the 7th, then emotional intensity! Your finances always claim a beneficial cleansing, last decan, Jupiter, Saturn and Pluto in Capricorn are watching over it! Things calm down with regards to your relationships at home or in the family, second decan. Uranus in Taurus shakes up your work or health: do not abuse good things or your energy! From the 23rd to the 31st, prepare your socio-professional comeback!
Love in General: Things look pretty good. Your feelings are turned towards the other until the 7th, supported by Mars in Aries, love is conquering and fiery. Venus moves into Cancer from the 8th to the 31st, which largely causes you to accelerate your desire to love, especially as your libido will be the subject of strong emotions! Let your senses express themselves!
In a relationship: Interesting monthly perceptions! Voluptuousness to live together, Mars in Aries awakens your animal sensuality while Venus turns playful, mischievous then sensitive and passionate, allowing your relationship a certain emotional blooming. Whether you are on vacation or not, share in your rest, it will do you both good!
Single: With the punch that comes into your life it's a bet that your emotional status will change at the end of the month! Your ardor will be matched only by your strength of conviction, especially from the 6th to the 21st. Until the 22nd, the sky facilitates a meeting during a trip or with a brilliant and foreign personality.
Advice from FREE Horoscope:
Avoid gluttony, hedonism is very good but your health must follow your nature, which is a bit excessive! Influxes are beneficial to a dynamic and active summer. Sport is not left out, same advice: moderation!
Capricorn – (Dec 21 – Jan 19)
An always changing personality and an importance of others, dear Capricorn! Your introspective sector welcomes the Sun and Mercury in Leo until the 22nd, your finances and other investments occupy your thoughts. Jupiter, Saturn and Pluto give your personality, seriousness, depth and inner strength, last decan. Uranus in Taurus titillates your emotional sector, a modification? Until the 7th, Venus softens your daily routine and takes care of your health. From the 8th to the 31st, this beautiful planet moces into Cancer and embellishes your married or private life. The home and the family are energized by Mars in Aries, square in your sign, some shouting matches are possible, soothe conflicts, take a step back if necessary. From the 23rd, the Sun and Mercury in Virgo, invites you to rethink your ideal of life. A beautiful program!
Love in General: From the 8th to the 31st, your feelings rise, become powerful and resolutely tuned towards each other. Whether you are accompanied or not, this energy of Venus in Cancer encourages you to seek the sweetness of a home, the warmth of a life together. You are a loner but do not like loneliness, it's your paradox, inherent to all human nature!
In a relationship:
Your quest for the senses is a little shaken up by an ardently enthusiastic Mars coming to boost, too suddenly, your sensuality. Know how to find your emotional balance, avoid getting annoyed quickly. Venus facing your Sun is a precious help since it occupies your conjugal sector. Express your love with all the delicacy you would like to receive from your partner.
Single:
Hyperactive even too much, do not force destiny, it will not appreciate it. Be open to meetings, probably sudden and original. Your way of loving is changing, you aspire for freedom and continuity. An ambitious program! A tender and reassuring partner could appear on your path.
Advice from FREE Horoscope:
Take care of yourself this summer month whether or not you are on vacation! No one but you knows what brings you peace and what makes you feel better. Accept listening to yourself.
Aquarius – (Jan 20 – Feb 17)
A beautiful emotional energy accompanies you, dear Aquarius! Until the 22nd, the Sun in Leo illuminates your conjugal and intimate sector. Mercury, from the 6th to the 21st, joins the Sun and reinforces this enhancement of this part of your life. Venus in Gemini boosts your love until the 7th then your work or your health. Mars in Aries boosts this beautiful program, travel is favored, the exchanges are beneficial to your relationship! Uranus square in your sign slightly titillates your home and your family, let it be said, let it go, first decan. Neptune in Pisces blurs the cards in regards to your finances, second decan. Jupiter, Saturn and Pluto prepare you for changes that are not yet concrete. Patience! From the 23rd to the 31st, there is room for inner intensity!
Love in General:
Pretty sentimental perspectives. The conjugal axis awakens pleasantly under the rays of the Sun and Mercury. You exchange fluidly, you consider the other with nobility, together the ingredients seem to favor any long-standing or nascent relationships. Mars in Aries in beautiful aspect of your sign, equips you with a conquering energy, able to reverse the obstacles and to ignite your personality!
In a relationship:
It goes! You suffer if you are left behind, under your slightly unionist mask, hides a loving nature more complex than it seems. The energies spoil you, until the 22nd your couple is in the spotlight. Your daily routine is softened as of the 8th. From the 23rd, your libido increases in power. Perfect!
Single:
A nice meeting is possible especially if you agree to move. Unless your neighborhood offers you a nice surprise. Until the 7th, Venus invites lightness and games, cultural or more sensual. Open your mind to conquest from the 6th to the 21st, welcome the exchanges with warmth.
Advice from FREE Horoscope:
A relatively easy month for you. Apart from the household or family sector that you will have to manage, planetary energies are beneficial and light. Do not forget to treat yourself without going into the red, especially second decan.
Pisces – (Feb 18 – March 18)
A beautiful relationship, dear Pisces! Focus on your daily routine and your work, until the 22nd, the Sun in Leo illuminates these areas of life. Mercury changes sign and comes to revitalize your loves until the 5th, your daily routine until the 21st, then your private life or marriage until the 31st. The exchanges are varied! Uranus in Taurus brings to your close entourage a beneficial revival, first decan. While your social circle continues its progression under the regenerative and positive impulses of Jupiter, Saturn and Pluto, last two decans. Mars in Aries shakes up your wallet: think about balancing your budget! From the 23rd, the Sun and Mercury in Virgo, in front of your sign, makes room for others. Neptune, second decan, awakens you to the magic of life!
Love in General:
Your feelings are present in the home until the 7th, thanks to Venus in Gemini. Then, Venus settles in Cancer until the 31st, your love sector receives its beautiful intentions. This sensitive Venus is in harmony with your empathic nature. However, Mars in Aries, fiery and dry, mishandles these sweet energies, a bit. A possessive libido but reserved feelings. A dilemma in sight!
In a relationship:
The last week is prosperous for your married life. An open rapport, easy communication and tender feelings, learn how to manage a slightly brutal energy and all will be well. Until the 22nd, you settle the current affairs. Your sensual energy will be powerful, give yourself moments of intimacy with your partner, summer is made for that!
Single:
The sky pampers your social sector, as well as that of love and games: go out, participate in leisure activities, it is the season, maybe a love is hiding here or there. Hyperactive, do not lose your fins! After the 23rd, luck is clearer.
Advice from FREE Horoscope:
An active month and boosted relationships! Hyper adaptable, you approach life with this particular nonchalance that makes you irresistible! Take care of your children, if you have them, the context lends itself, or take care of yourself. Take the time to live.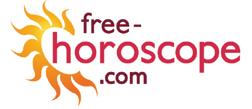 Expanded text for each sign is available at www.free-horoscope.com