Ok, four days of this tummy bug and now it's not funny.  But what is funny is watching me lay on my side with laptop on my bed finishing the January Horizons.  Now I just need Barbara Lee's horoscopes, Roger Coleman's calendar and the back page ad.   Oh, and to write my editorial….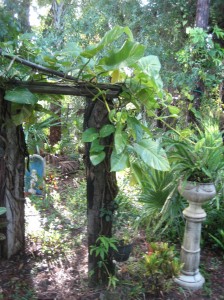 I switched from Gatorade *ugh* and have been sipping Cranberry Emergenc-C every few minutes to stay hydrated.  I am sure the worst is over with.  There's nothing left to purge!  My body is still going through it's little dance which is no fun, but I managed to get two hours sleep in a row about noon today *heaven*
And as long as I'm kinda stuck here for awhile, here's the view outside my window into my east yard.
I'll keep you posted.
Midnight update: I slept a few hours and drank about 2 cups of Emergen-C in the last hour – and it's stayed down! Hurrah, I'm hydrating. That can only be good 🙂