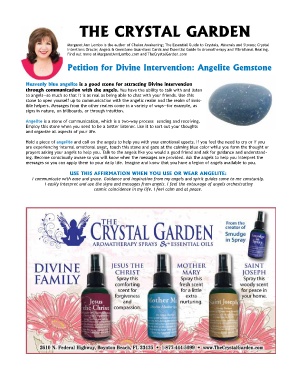 THE CRYSTAL GARDEN



                             Margaret Ann Lembo is the author of Chakra Awakening; The Essential Guide to Crystals, Minerals and Stones; Crystal
                             Intentions Oracle; Angels & Gemstone Guardians Cards and Essential Guide to Aromatherapy and Vibrational Healing.
                             Find out more at MargaretAnnLembo.com and TheCrystalGarden.com
                             Petition for Divine Intervention: Angelite Gemstone



            Heavenly blue angelite is a good stone for attracting Divine intervention
            through communication with the angels. You have the ability to talk with and listen
            to angels—so much so that it is as real as being able to chat with your friends. Use this
            stone to open yourself up to communication with the angelic realm and the realm of invis-
            ible helpers. Messages from the other realms come in a variety of ways—for example, as
            signs in nature, on billboards, or through intuition.

            Angelite is a stone of communication, which is a two-way process—sending and receiving.
            Employ this stone when you need to be a better listener. Use it to sort out your thoughts
            and organize all aspects of your life.
            Hold a piece of angelite and call on the angels to help you with your emotional upsets. If you feel the need to cry or if you
            are experiencing internal emotional angst, touch this stone and gaze at the calming blue color while you form the thought or
            prayers asking your angels to help you. Talk to the angels like you would a good friend and ask for guidance and understand-
            ing. Become consciously aware so you will know when the messages are provided. Ask the angels to help you interpret the
            messages so you can apply them to your daily life. Imagine and know that you have a legion of angels available to you.
                              USE THIS AFFIRMATION WHEN YOU USE OR WEAR ANGELITE:
               I communicate with ease and grace. Guidance and inspiration from my angels and spirit guides come to me constantly.
                    I easily interpret and use the signs and messages from angels. I feel the entourage of angels orchestrating
                                        cosmic coincidence in my life. I feel calm and at peace.