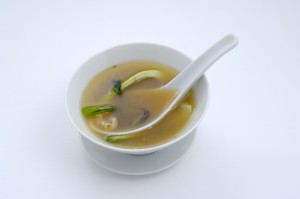 I heat 2 cups of vegetable broth in a saucepan. You can also use chicken broth or hot water into which a tablespoon of white barley miso paste has been mixed.
Grate in 3 tablespoons of fresh ginger
Squeeze in half a lemon
Rinse then chop a few scallions up and throw them in.
If it's too lemony, you can add a little honey or even 1/2 tsp sugar.
Also good is a 1/2 tsp of Vietnamese chili garlic sauce for a kick.