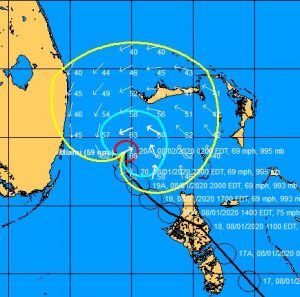 Aah Jim is a local coastal storm expert in disaster recovery. This the 9 am update from the Don't Panic Weather Service. Isaias was downgraded to a tropical storm and as the models predicted yesterday the National Hurricane Center now acknowledges it is not expected to regain hurricane windspeeds. In the pic attached you can see Isaias hitting Florida with it's weak western edge. If this comes as a surprise to you then you haven't been paying attention to these updates! The weakening storm is finally being reflected in the lowering of maximum sustained winds expected to hit the Atlantic coast cities. Here are the latest estimates:
Miami: Storm has passed
West Palm: 25 mph out of the W at 1 pm Sun
Ft Pierce: 29 mph out of the N at 1 pm Sun
Vero Beach: 28 mph out of the N at 1 pm Sun
Melbourne Beach: 33 mph out of the N at 7 pm Sun
Cocoa Beach: 30 mph out of the NE at 7 pm Sun
Daytona: 27 mph out of the NE at 1 am Mon
Jacksonville: 20 mph out of the N at 7 am Mon
Not much to fear monger about but the media will do their best!