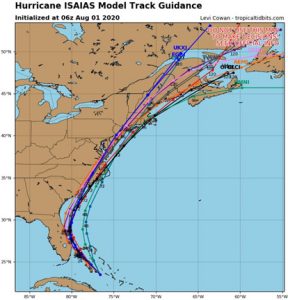 This is the Dont Panic Weather Service with a quick 10 am August 1st update. Nothing needs to be updated!  Isaias is following the expected course with the expected strength. The models are all still tight and agreed on an offshore pass of the storm and max wind speeds for the coastal areas have not changed. For those of you posting the updates to your wall you may want to mention the top speed of the storm will be offshore, only the speed the coast will be hit with matters. The media never mentions that, those fear mongers! Continue to not panic and wear your masks!
This is the 6 am EDT update for Aug 1st by the Don't Panic Weather Service. A large percentage of the models now predict the same projection as they last agreed on, Isaias will remain a Cat 1 strength hurricane for 2 to 3 days but will remain offshore of Florida, only impacting the Atlantic Coast with it's weaker western edge. The max windspeeds have returned to the 30-40 mph range with arrival times in central Florida coast a few hours later showing Isaias is expected to move slower up the coast.

Here are the current Maximum Sustained winds and times:
Miami: 32 mph out of the NE at 7 pm Sat
West Palm: 32 mph out of the N at 1 am Sun
Ft Pierce: 36 mph out of the NW at 1 pm Sun
Vero Beach: 36 mph out of the N at 1 pm Sun
Melbourne Beach: 35 mph out of the N at 4 pm Sun
Cocoa Beach: 36 mph out of the N at 7 pm Sun
Daytona: 32 mph out of the N at 1 am Mon
Jacksonville: 26 mph out of the N at 4 am Mon
Orlando and inland as well as the west coast of Florida no impact.
Wind driven waves will raise ocean levels 2 – 4 feet in the hours just before the max wind arrival time. In your area winds will blow from the east, then a few hours later the NE and when they are from the N the winds are maximum and the storm is passing offshore. When they shift to NW and then W it means Isaias is past.
It was very unusual for the models to diverge so much last night so now that they have tightened again they are not likely to disagree and their predictions should be pretty accurate. No worries!