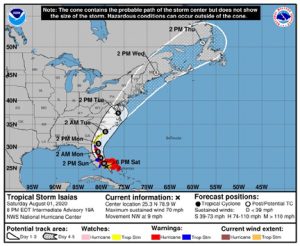 Aah Jim is a local coastal storm expert in disaster recovery. Here's his "11pm EDT update for Aug 1st from the Don't Panic Weather Service, a private service for my friends and friends of friends provided with no advertising or commercial or private funding just concern for your well being! Isaias is sticking to his track, the models still expect it to hover between a low cat one hurricane and a tropical storm and deliver only its weak western edge to coastal Florida. Expect winds out of the northeast for several hours before Isaias hits the top wind speed in your area then a couple of hours of north, then northwest winds and the show is over when it starts blowing from the west. Ocean levels will rise only 2-4 ft.
These are the current estimates of top windspeed, time and direction for the coastal cities.
Miami: 24 mph out of the W at 9 am Sun
West Palm: 47 mph out of the N at 9 am Sun
Ft Pierce: 36 mph out of the N at noon Sun
Vero Beach: 39 mph out of the N at 3 pm Sun
Melbourne Beach: 38 mph out of the N at 6 pm Sun
Cocoa Beach: 47 mph out of the NE at 9 pm Sun
Daytona: 39 mph out of the N at 3 am Mon
Jacksonville: 30 mph out of the N at 6 am Mon
Stay Safe, Stay Cool!