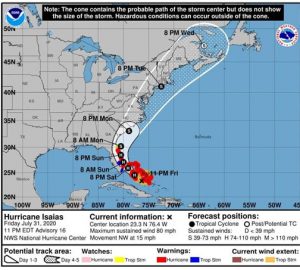 Aah Jim is a local coastal storm expert in disaster recovery. "This is the 12 pm midnight DST July 31/Aug 1st update for the Don't Panic Weather Service. Isaias is still holding a North West track. The National Hurricane Center's Cone of Uncertainty Map looks as if Isaias is expected to make landfall in Florida but that is very misleading. The models are all over the place both making landfall and missing by a mile.
The track the Hurricane Center is going with is the dark line in the center of all the spaghetti, just off shore in the map I posted for 9 pm. If it does make landfall it would either be a brief glancing blow or else would sap Isaias strength very quickly.
The current Hurricane Center Map also shows Isaias as a Hurricane as it passes by central Florida Coast on Sunday at 8pm but the majority of the models agree that it will have dropped to a Tropical Storm by then.
Perhaps they are slow at updating the map because they did lower the expected wind speeds at coastal cities. They were all in the 40-50 mph range at 8pm today and now they are all in the 30-40 mph range where they were for the last few days.
I will give a detailed update in the morning when the dust has settled and Isaias decides which of the models has a clue as to what its up to! Til then, sleep well, the boogie man is only in the mind of the fear mongers!"
9pm update with wind estimates here: 


They read:

Miami: 36 mph out of the NE at 6 pm Sat




West Palm: 43 mph out of the N at 11 pm Sat




Ft Pierce: 44 mph out of the NW at 6 am Sun




Vero Beach: 44 mph out of the N at 6 am Sun




Melbourne Beach: 39 mph out of the N at 6 am Sun




Cocoa Beach: 37 mph out of the N at noon Sun




Daytona: 30 mph out of the N at 6 pm Sun