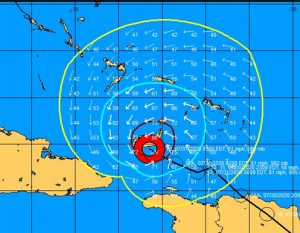 Aah Jim is a local coastal storm expert in disaster recovery and  a voice of reason: "This is the 5pm DST July 31st update for the Don't Panic Weather Service. Isaias is holding to the expected track and remains the expected intensity, so models should be tightening up but atmospheric conditions are playing havoc with the models so they are actually agreeing less with each other. 2/3rds of the models still expect it to track 20 to 30 miles off shore. Since the hurricane winds are tight in the center this would only expose the east coast of Florida to winds of 30-50 mph with occasional gusts a little higher. A few models expect it make landfall in South Florida as a tropical storm or a low cat 1 that immediately drops to a tropical storm. The National Weather Service is going with the 2/3rds vote and I have to agree.
In this windfield diagram, it would only be the edge on the left that would impact the east coast similar to last years storms. Expect the ocean to rise a few hours before the highest winds with a 3 to 6 ft rise most likely and then drop down just as quick.
Here's the current maximum sustained wind estimates:
Miami: 36 mph out of the NE at 6 pm Sat
West Palm: 43 mph out of the N at 11 pm Sat
Ft Pierce: 44 mph out of the NW at 6 am Sun
Vero Beach: 44 mph out of the N at 6 am Sun
Melbourne Beach: 39 mph out of the N at 6 am Sun
Cocoa Beach: 37 mph out of the N at noon Sun
Daytona: 30 mph out of the N at 6 pm Sun
Jacksonville: No appreciable impact.
Orlando and inland as well as the west coast of Florida no impact.
Since we are dealing with an actual hurricane although a borderline one, I will try to keep you updated as much as i can. In the mean time remember to wear your masks, don't listen to fear mongers and most of all Don't Panic!"