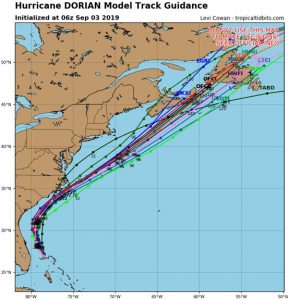 Aah Jim is a local coastal storm expert in disaster recovery who researches the hurricanes and gives no nonsense reporting about them in plain language. Read his prior updates for important info about how hurricanes work, i.e. "It doesn't matter what the top windspeed of a storm is if it stays out in the Atlantic. it does not matter what the wind speed of the narrow eastern eyewall of Dorian is doing if that eyewall is not expected to come close to Florida. No matter how big a hurricane is, once it drives completely up on land it dramatically weakens, it needs to hit a warm open body of water again before it can pose a major threat. "
Jim writes:  Good Morning! Time for the 7am Dont Panic Weather Update: Dorian is barely creeping out of the Bahamas northward still on track to give Florida a glancing blow. The projections have been calling for an incredibly slow movement and Dorian has lived up to the predictions. The timing and max winds speeds predicted last night are still valid. Expect gusty winds all day today with the max sustained winds less than 50mph coming out of the NW tonight then lots of gusty winds all day tomorrow out of the W and SW. Storm surge and beach erosion will mostly happen prior to the peak winds tonight, once the maximum NW winds start it will actually blow the water back towards the ocean. So there you have it, all the facts and none of the drama, Stay calm, no cause for panic, one more day and the worst will be over.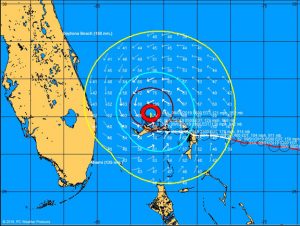 This is the 8 am EDT update from the Don't Panic Weather Service.  No change in forecast for Dorians path or max winds affecting Florida's coast, see last nights update for max sustained wind speeds and timing. This is a private weather service provided to my friends and their friends receiving no government funding and no corporate sponsorship from Home Depot! Offers of monetary contribution for this service has been politely refused, this is a labor of Love to counter the forces of Fear in our lives. For those who dont know me, I am a coastal storm expert currently employed in disaster recovery in a different part of the country. I will be working today on that disaster so will likely not be able to update until 5 or 6 EDT. I will be monitoring the situation closely and will make an emergency update if anything changes, so be strong against the forces of fear and chaos, and above all Don't Panic.
RELATED:
Aah Jim, Coastal Storm Expert in Disaster Recovery, Monday 11:30pm update Hurricane Dorian
Aah Jim, Coastal Storm Expert in Disaster Recovery, Monday 3pm update on Hurricane Dorian
Aah Jim, Coastal Storm Expert in Disaster Recovery, Monday 11am update on Hurricane Dorian
Aah Jim, Coastal Storm Expert in Disaster Recovery, Monday 7am update on Hurricane Dorian
Aah Jim, Coastal Storm Expert in Disaster Recovery, Monday 6am update Hurricane Dorian
Aah Jim, Coastal Storm Expert in Disaster Recovery, Monday 5am update on Hurricane Dorian
Aah Jim, Coastal Storm Expert Disaster Recovery, Sunday midnight update on Hurricane Dorian
Aah Jim, local Coastal Storm Expert in Disaster Recovery, 2pm Sunday update
Aah Jim, local Coastal Storm Expert in Disaster Recovery, 8pm update on Hurricane Dorian
Andrea's experiences with hurricanes and tropical storms
After what Hurricane Irma did to the Caribbean, we'll be fine
Irma may hit near Miami Sunday, near Atlanta Monday 
Here's what the world's most accurate weather model predicts for Irma 
Mandatory evacuation, surviving Hurricane Frances, being the Vision Keeper
Be a vision keeper during the hurricanes
The phases of the moon drive hurricane behavior
Don't add to the fear about hurricanes
Mild winter = mild hurricane season
Remember an active hurricane season doesn't mean any will make landfall
I emailed news stations about a no cost plan for viewers to help with the hurricanes; global coherence
My Facebook posts for the Hurricane Matthew timeline