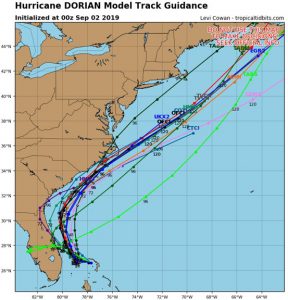 Aah Jim is a local coastal storm expert in disaster recovery who researches the hurricanes and gives no nonsense reporting about them in easy to understand language. Read his prior updates for important info about how hurricanes work, i.e. "It doesn't matter what the top windspeed of a storm is if it stays out in the Atlantic. it does not matter what the wind speed of the narrow eastern eyewall of Dorian is doing if that eyewall is not expected to come close to Florida. No matter how big a hurricane is, once it drives completely up on land it dramatically weakens, it needs to hit a warm open body of water again before it can pose a major threat. "
Jim writes: Its time again for another Dont Panic Weather Update, the midnight Sunday edition. No change in expected trajectory of Dorian, top wind speeds on the Florida coast based on current models is projected to be 51 mph. Right now Dorian is moving on top of Grand Bahama Island, the wind speed is a sustained 52 mph. It is predicted to max out at 110 mph at noon tomorrow. All the talk about super highwind speeds appear to be references to temporary gusts of wind not sustained winds. The wind speed is projected to be much higher there because the storm track should hit Grand Bahama with the inner eastern eye wall which is the highest wind speed in Dorian and all Atlantic hurricanes. Just after my last update I posted a wind map of Dorian, its outer western band that is going to impact Florida is in the 44 – 51 mph range and those are the predicted max wind speeds for Florida's eastern cities, away from the coast the max winds drop off sharply first to 35 in orlando and 15 in tampa. Expect temporary wind gusts of 75 or greater at the beach which is one of the reasons we are under a hurricane watch.
Winds in east Florida are projected to reach the mid twenties mph out of the north on Florida's east coast by morning tomorrow slowly increasing as the day goes on into the 30s then creep in the 40s through Tuesday reaching their maximums of 51 when it starts blowing from the NW Tuesday evening. it will just as slowly decline through Wednesday as the winds shift from the west and then the south west. The current projections do not include much wind from the Northeast, this is good news, those are the only winds that would blow water towards the coast adding to our high tides. Winds out of the NW, W and SW will actually blow water away from the coast reducing wave strength.
And that is it for tonight! Keep calm until the morning light!
RELATED: Aah Jim, local Coastal Storm Expert in Disaster Recovery, 2pm Sunday update
Aah Jim, local Coastal Storm Expert in Disaster Recovery, 8pm update on Hurricane Dorian
Andrea's experiences with hurricanes and tropical storms
After what Hurricane Irma did to the Caribbean, we'll be fine
Irma may hit near Miami Sunday, near Atlanta Monday 
Here's what the world's most accurate weather model predicts for Irma 
Mandatory evacuation, surviving Hurricane Frances, being the Vision Keeper
Be a vision keeper during the hurricanes
The phases of the moon drive hurricane behavior
Don't add to the fear about hurricanes
Mild winter = mild hurricane season
Remember an active hurricane season doesn't mean any will make landfall
I emailed news stations about a no cost plan for viewers to help with the hurricanes; global coherence
My Facebook posts for the Hurricane Matthew timeline