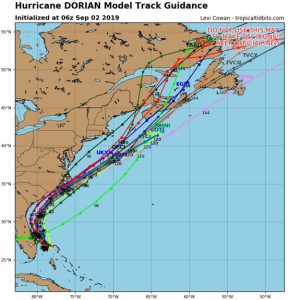 Aah Jim is a local coastal storm expert in disaster recovery who researches the hurricanes and gives no nonsense reporting about them in easy to understand language. Read his prior updates for important info about how hurricanes work, i.e. "It doesn't matter what the top windspeed of a storm is if it stays out in the Atlantic. it does not matter what the wind speed of the narrow eastern eyewall of Dorian is doing if that eyewall is not expected to come close to Florida. No matter how big a hurricane is, once it drives completely up on land it dramatically weakens, it needs to hit a warm open body of water again before it can pose a major threat. "
Jim writes: This is the Dont Panic Weather update for 7am EDT. Though it is expected that wind gust of over 75 mph will occur on the beaches and open areas like the Indian River Lagoon, projected sustained winds will top out in the 40s or low 50s mph. Winds will already start climbing starting this morning in the south with winds in Ft Pierce in the 30 mph range out of the north. By 3 am Tuesday winds are projected to be in the 40 mph range. By 6 am the winds will shift to the NW and then peak at around 49mph at around 3pm. Heavy winds will continue in the 40s out of the west then drop into the 30s from the SW and into the 20s, Wed morning. 
It is the same story up and down the coast with the peak winds coming at different times with the slow movement of Dorian. Here are the current projected max winds based on the weather models and the wind strength of Dorian's weak western edge.
Jacksonville max winds spd 32 mph from the North Wed 1pm
Daytona max wind spd 45 mph from the N Wed 4 am
Cocoa Beach max wind spd 53 mph from the NW Wed at 1am
Melbourne Beach max wind spd 51 mph from NW Tues at 10pm
Palm Bay max wind spd 49mph from the NW Tues at 10pm
Vero Beach max wind spd 49 from the NW Tues at 10pm
Fort Pierce max wind spd 47 from the NW Tues at 3pm
Stuart max wind spd 42 from the NW Tues at 1pm
West Palm Beach max wind spd 44 from the NW Tues at 7 am
Miami Beach max wind spd 26 from the W Tues at 10 am
Here are the max wind estimates for away from the coast.
Orlando max wind spd 37 max from the NW Wed 2am
Tampa max wind spd 16 max from the West Wed 11am
Sarasota max wind spd 18 max from the NW Wed 11am
The truth will set your worries free. Still be careful out there!
Will keep you updated of any changes.
RELATED:
Aah Jim, Coastal Storm Expert in Disaster Recovery, Monday 6am update Hurricane Dorian
Aah Jim, Coastal Storm Expert in Disaster Recovery, Monday 5am update on Hurricane Dorian
Aah Jim, Coastal Storm Expert Disaster Recovery, Sunday midnight update on Hurricane Dorian
Aah Jim, local Coastal Storm Expert in Disaster Recovery, 2pm Sunday update
Aah Jim, local Coastal Storm Expert in Disaster Recovery, 8pm update on Hurricane Dorian
Andrea's experiences with hurricanes and tropical storms
After what Hurricane Irma did to the Caribbean, we'll be fine
Irma may hit near Miami Sunday, near Atlanta Monday 
Here's what the world's most accurate weather model predicts for Irma 
Mandatory evacuation, surviving Hurricane Frances, being the Vision Keeper
Be a vision keeper during the hurricanes
The phases of the moon drive hurricane behavior
Don't add to the fear about hurricanes
Mild winter = mild hurricane season
Remember an active hurricane season doesn't mean any will make landfall
I emailed news stations about a no cost plan for viewers to help with the hurricanes; global coherence
My Facebook posts for the Hurricane Matthew timeline