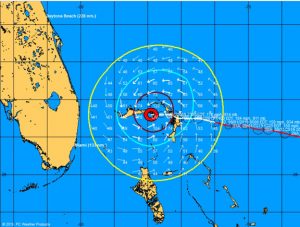 Aah Jim is a local coastal storm expert in disaster recovery who researches the hurricanes and gives no nonsense reporting about them in easy to understand language. Read his prior updates for important info about how hurricanes work, i.e. "It doesn't matter what the top windspeed of a storm is if it stays out in the Atlantic. it does not matter what the wind speed of the narrow eastern eyewall of Dorian is doing if that eyewall is not expected to come close to Florida. No matter how big a hurricane is, once it drives completely up on land it dramatically weakens, it needs to hit a warm open body of water again before it can pose a major threat. "
This is the 6 am Dont Panic Weather report. The major models are in strong agreement that Dorian will hold to the projected track off Florida's coast since the atmospheric conditions remain favorable for that track and it is a track consistent with how hurricanes historically behave once they move north into these latitudes. There are some fake projections out there showing Dorian expected to have a Florida landfall and comparing the track to Irma, disregard! The map they are using is two days old and was revised hours after the models created it.  
Do not expect the media to provide any comforting information, they will harp on dangers that are not projected to happen here, make references to the high winds hitting the Bahamas as if they were expected to hit Florida and continue to warn of dangers even after those dangers have passed to keep people inside glued to their tv sets. The media and local officials believe this is in the public interest to keep us from wandering the streets and getting in harms way. Screw that, here are the facts as we know them, stay calm, we will get through this together.
Because Dorian will move slowly off the coast the rainfall totals are expected to be 2 to 9 inches with only minor risk of flash floods and a greatly reduced risk of storm surge because the low pressure system is projected to remain off shore and winds out of the east and north east will max out in the 20 mph range. The high winds in the north west, west and south west will actually blow water away from the coast and help reduce impacts of wind driven waves and high water levels.
There will be gusts in excess of 75 mph at the beaches and large open areas like the Indian River Lagoon but sustained wind speeds are still projected to peak in the high 40s or low 50s out of the North west. Attached is a current wind field map showing the outer band of Dorian on the left with the 40-50 mph winds that will impact Florida. Within the hour I will post projected wind speeds for each coastal city.
RELATED:
Aah Jim, Coastal Storm Expert in Disaster Recovery, Monday 5am update on Hurricane Dorian
Aah Jim, Coastal Storm Expert Disaster Recovery, Sunday midnight update on Hurricane Dorian
Aah Jim, local Coastal Storm Expert in Disaster Recovery, 2pm Sunday update
Aah Jim, local Coastal Storm Expert in Disaster Recovery, 8pm update on Hurricane Dorian
Andrea's experiences with hurricanes and tropical storms
After what Hurricane Irma did to the Caribbean, we'll be fine
Irma may hit near Miami Sunday, near Atlanta Monday 
Here's what the world's most accurate weather model predicts for Irma 
Mandatory evacuation, surviving Hurricane Frances, being the Vision Keeper
Be a vision keeper during the hurricanes
The phases of the moon drive hurricane behavior
Don't add to the fear about hurricanes
Mild winter = mild hurricane season
Remember an active hurricane season doesn't mean any will make landfall
I emailed news stations about a no cost plan for viewers to help with the hurricanes; global coherence
My Facebook posts for the Hurricane Matthew timeline