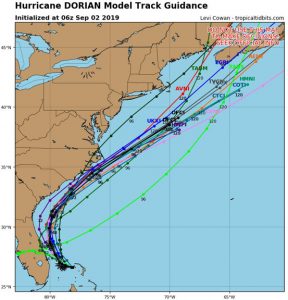 Aah Jim is a local coastal storm expert in disaster recovery who researches the hurricanes and gives no nonsense reporting about them in easy to understand language. Read his prior updates for important info about how hurricanes work, i.e. "It doesn't matter what the top windspeed of a storm is if it stays out in the Atlantic. it does not matter what the wind speed of the narrow eastern eyewall of Dorian is doing if that eyewall is not expected to come close to Florida. No matter how big a hurricane is, once it drives completely up on land it dramatically weakens, it needs to hit a warm open body of water again before it can pose a major threat. "
Jim writes: This is the 5 am Dont Panic Weather Report. The model predictions are holding steady with the projected course off Florida getting tighter as time goes by.   
Dorian is currently in Grand Bahama getting 80 mph winds out of the NW. Unlike Florida which is projected by all the major models to just get a glancing blow of the 40-50 mph edge of Dorian, Grand Bahama is projected to get the full brunt of the eastern eye wall with winds from 111 to 126 possible. Hold on to your nerves my friends, Dorian is still not projected to leave the Bahamas and head north grazing Florida until late Monday, early morning Tuesday. Winds will already start climbing starting this morning in the south with winds in Ft Pierce in the 30 mph range out of the north, by 3 am Tuesday projected to be in the 40 mph range.
By 6 am Tuesday, the winds will shift to the NW and peak at around 49 at around 3pm. Heavy winds will continue in the 40s out of the west then drop into the 30s from the SW and into the 20s, Wed morning. It will be a similar story up the coast with the heavy winds coming from the north then peaking when the storm winds are NE and turning West then Southwest as the storm is leaving your area. Besides the models still not projecting any landfall of the high speed eastern eye wall it also is projecting that Dorian will stay far enough off shore not to hit the Florida coast with winds from the east or northeast of more than in the 20s mph range which will greatly reduce the amount of beach erosion and possibility of wind driven waves adding much height to high tides. I will post another update with all the projected max winds of the coastal cities the wind directions and timing within the hour. Stay calm we have a ways to go yet!
RELATED:
Aah Jim, Coastal Storm Expert Disaster Recovery, Sunday midnight update on Hurricane Dorian
Aah Jim, local Coastal Storm Expert in Disaster Recovery, 2pm Sunday update
Aah Jim, local Coastal Storm Expert in Disaster Recovery, 8pm update on Hurricane Dorian
Andrea's experiences with hurricanes and tropical storms
After what Hurricane Irma did to the Caribbean, we'll be fine
Irma may hit near Miami Sunday, near Atlanta Monday 
Here's what the world's most accurate weather model predicts for Irma 
Mandatory evacuation, surviving Hurricane Frances, being the Vision Keeper
Be a vision keeper during the hurricanes
The phases of the moon drive hurricane behavior
Don't add to the fear about hurricanes
Mild winter = mild hurricane season
Remember an active hurricane season doesn't mean any will make landfall
I emailed news stations about a no cost plan for viewers to help with the hurricanes; global coherence
My Facebook posts for the Hurricane Matthew timeline