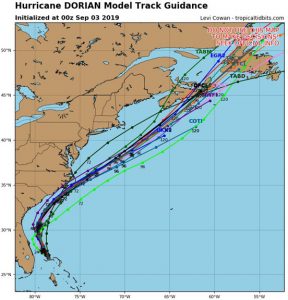 Aah Jim is a local coastal storm expert in disaster recovery who researches the hurricanes and gives no nonsense reporting about them in plain language. Read his prior updates for important info about how hurricanes work, i.e. "It doesn't matter what the top windspeed of a storm is if it stays out in the Atlantic. it does not matter what the wind speed of the narrow eastern eyewall of Dorian is doing if that eyewall is not expected to come close to Florida. No matter how big a hurricane is, once it drives completely up on land it dramatically weakens, it needs to hit a warm open body of water again before it can pose a major threat. "
Jim writes:  This is your Dont Panic Weather Update for 1130PM EDT.  Dorian has finally started its first baby steps north.  Shown is the projected path of Dorian, the models are very tight and should be very accurate at this point. If you've followed these updates from the beginning you will remember I pointed out the weaknesses in the models at every step so when I have confidence in them now it is because the conditions reflect their predictions accurately. 
Sadly for the Drama Queens in the media and some of your Drama Queen friends, the actual expected wind speeds are half or a third of their great fears since the western edge of Dorian that is expected to impact Florida has wind speeds of 40-50mph. Expect the media to continue to harp on short gusts of winds of greater than 75 mph but the expected max sustained winds are as follows:
Jacksonville max winds spd 30 mph from the North Wed 3pm
Daytona max wind spd 39 mph from the NW Wed 9 am
Cocoa Beach max wind spd 45 from the NW Tues at midnight
Melbourne Beach max wind spd 38 from NW Tues at midnight
Palm Bay max wind spd 37 from the NW Tues at midnight
Vero Beach max wind spd 41 from the NW Tues at 6pm
Fort Pierce max wind spd 40 from the NW Tues at 6pm
Stuart max wind spd 36 from the NW Tues at noon
West Palm Beach max wind spd 36 from the NW Tues at 9 am
Miami Beach max wind spd 22 from the W Tues at 9 am
Here are the max wind estimates for away from the coast.
Orlando max wind spd 30 max from the NW Wed 6am
No effect on winds on the west coast of Florida.
It will be gusty all day Tuesday, with winds from the North, once they turn NE you are getting the worst of the winds. When they turn west going into Wednesday the storm is moving past you and when they are out of the southwest late wednesday the storm has past.
Storm surge is expected to be 2-7 ft with a middle value most likely. Ocean heights will be suppressed once the winds shift to the NW which will be their highest speeds, pushing water away from shore. So Calm the F down! Things will be alright!
RELATED:
Aah Jim, Coastal Storm Expert in Disaster Recovery, Monday 3pm update on Hurricane Dorian
Aah Jim, Coastal Storm Expert in Disaster Recovery, Monday 11am update on Hurricane Dorian
Aah Jim, Coastal Storm Expert in Disaster Recovery, Monday 7am update on Hurricane Dorian
Aah Jim, Coastal Storm Expert in Disaster Recovery, Monday 6am update Hurricane Dorian
Aah Jim, Coastal Storm Expert in Disaster Recovery, Monday 5am update on Hurricane Dorian
Aah Jim, Coastal Storm Expert Disaster Recovery, Sunday midnight update on Hurricane Dorian
Aah Jim, local Coastal Storm Expert in Disaster Recovery, 2pm Sunday update
Aah Jim, local Coastal Storm Expert in Disaster Recovery, 8pm update on Hurricane Dorian
Andrea's experiences with hurricanes and tropical storms
After what Hurricane Irma did to the Caribbean, we'll be fine
Irma may hit near Miami Sunday, near Atlanta Monday 
Here's what the world's most accurate weather model predicts for Irma 
Mandatory evacuation, surviving Hurricane Frances, being the Vision Keeper
Be a vision keeper during the hurricanes
The phases of the moon drive hurricane behavior
Don't add to the fear about hurricanes
Mild winter = mild hurricane season
Remember an active hurricane season doesn't mean any will make landfall
I emailed news stations about a no cost plan for viewers to help with the hurricanes; global coherence
My Facebook posts for the Hurricane Matthew timeline